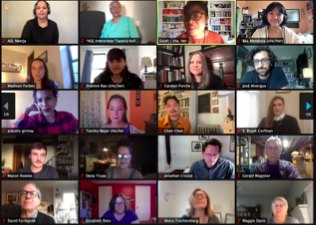 In her dystopian novel "Parable of the Sower," science fiction pioneer and acclaimed novelist Octavia Butler writes: "All that you touch / You Change. / All that you Change / Changes you. / The only lasting truth / Is Change. / God / Is Change." This is the central tenet of "Earthseed," Butler's conception of a religion where God is a malleable being that is shaped by individual practitioners who manifest positive change in the world.
This was the subject of the Poetic Justice Institute's (PJI) first-ever digital poetry festival, entitled "All that you touch / You change. / All that you change / Changes you." held in support of Demos, a creative "think-and-do" tank closely aligned with Butler's message for a just, inclusive, multiracial democracy. Over 100 participants joined the PJI to construct an 89-page poem shaped by Butler's imagination for democratizing change in the world and prompts curated by six visiting poet guides.
These poet guides included: Aracelis Girmay, author of "the black maria" and nominee for the 2018 Neustadt International Prize for Literature; José Felipe Alvergue, whose poetry collection "scenery" was selected by Fordham University Press as the winner of the Poets Out Loud Editor's Prize; Tamiko Beyer, author of the forthcoming poetry collection "Last Days;" Chen Chen, author of "When I Grow Up I Want to Be a List of Further Possibilities," which was longlisted for the National Book Award; S. Brook Corfman, whose poetry collection "My Daily Actions, or The Meteorites" was chosen as a New York Times Best Poetry Book of 2020 and Carolyn Forche, whose anthology "Against Forgetting" received widespread acclaim, most notably by Nelson Mandela. 
After reading a poem or instructing a guided meditation, each poet guide asked attendees to record their thoughts to a unique prompt inspired by Butler's quote. As Sarah Gambito, co-director of the PJI and director of the Creative Writing program at Fordham led the event, participants shared their answers to these prompts in the Zoom chat, creating what she called a "waterfall of collective reading and writing."
"What we see in this event is the opportunity for an act of empathy, of conversation and of community," Gambito said as she introduced the poet guides. "We will listen deeply; we will write and hold each other's words."
And in holding each other's words, the PJI designed its festival as an event that could only be hosted on Zoom. With most attendees listening to poetry and joining guided meditations in their bedrooms and offices, the event's presentations utilized digital art and chat features to create an environment that felt "so special and intimate," said Bea Mendoza, an undergraduate fellow at the PJI.
"The festival made me think so much more about the relationship between poetry and justice, and I am very grateful to have been a part of it," she said, adding, "I cried during some of the presentations!"
In response to these presentations, attendees filled the Zoom chat with 89 pages of poetry and comments centered around questions of ancestry, gratitude and the resonance of change. Saved and disseminated after the festival, each participant and poet guide received the collective work to reread.
"It's been so long since you've called us," wrote one of the poet guides in response to Tamiko Bayer's prompt about searching for truth in ancestry. "Called on us. / Called to us. / The phone is right there. / Yep, a landline. / A line to the land. / Touch the phone cords. / Touch the cords in your throat. / Remember. / Remember. / But we are not only memory. / We are yours. / We are here, in any quiet now your ear can find."
And in the many, quiet windows of a Zoom room, the PJI festival embraced its collective voice amidst the constraints of COVID-19, making poetry and community in isolation. Much like Butler's words that framed the festival, each individual attendee at the event contributed to the manifestation of a brighter, more positive future.