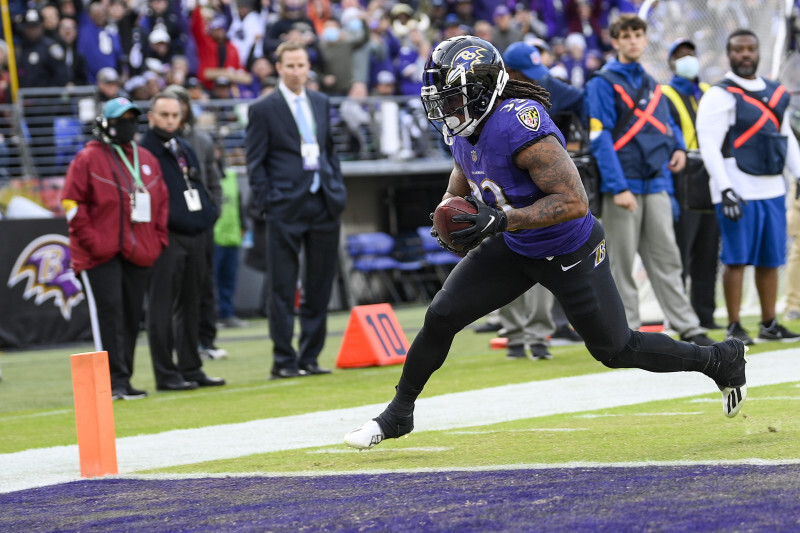 Welcome to my week 10 fantasy football analysis!
This week turned out to be one with some absolutely insane blowouts, with the Kansas City Chiefs winning by 27 points, the Dallas Cowboys winning by 40 points, the Buffalo Bills winning by 28 points and the New England Patriots winning by 38 points.
This also ended up being the week of shutouts and upsets, seeing the Miami Dolphins lock down the Ravens and the Green Bay Packers preventing the Seahawks from scoring a single point. Maybe it is time to bring back Geno Smith? Anyway, let's get into the week's best fantasy performances.
I'm not going to lie, I was skeptical about Patrick Mahomes's prospects for the rest of this season. However, he definitely proved me wrong this week, throwing for 406 yards and five touchdowns. The Chiefs' offense as a whole tore through the Raiders' defense, with running back Darrel Williams exploding for nine receptions, 101 receiving yards and a receiving touchdown. Tyreek Hill did not miss out on the action either, garnering seven receptions, 83 receiving yards and two receiving touchdowns. Anyone who doubted the vitality of the Chiefs' offense was definitely proven wrong after this performance; hopefully, they can continue to put up performances like this for the rest of the season.
There were a lot of eyes on the Bills vs. Jets game this Sunday, as the now infamous Mike White faced one of the league's strongest defenses. After the Bills' lackluster performance against the Jaguars the previous week, many were looking forward to another breakout performance from White, potentially cementing his role as a starting quarterback.
This, however, did not happen. Instead, White threw four interceptions without a single touchdown and the Bills offense exploded in response, with Stefon Diggs having his best performance of the season in contrast to Dawson Knox, who was largely silent this week after returning from an injury. Diggs put away eight receptions, 162 receiving yards and a receiving touchdown. While the game was mostly one-sided, the Bills got a little too complacent in prioritizing Diggs over virtually every other receiver on their roster. I would look out for defenses going up against the Bills to begin covering Diggs extensively, potentially hampering his numbers in the coming weeks.
I should acknowledge the fact that Mike White's performance this week was absolutely abysmal. The Bills' defense contained him for the entire game and allowed no breathing room for him to make big plays on offense. The Jets' front office will no longer have to deal with any protests from fans in favor of White. Though honestly, I would not be surprised if Mike White pops up on another team in the years to come, possibly putting up better performances on a team with a better offensive line and defense to support him.
Waiver Wire:
Devonta Freeman (RB, Baltimore Ravens)
I normally don't write about potential adds more than once, but Freeman has a lot of upside despite the hotly contested Ravens backfield. The Miami vs. Baltimore game was terrible for fantasy performances, but Freeman still got an impressive amount of snaps and targets. After what appeared to be a subpar performance, Freeman is going to be dropped by many owners this week, making it the perfect opportunity for him to have a comeback in a flex slot instead. I would definitely recommend adding him in search of a potential resurgence next week.
Matt Breida (RB, Buffalo Bills)
If I am being completely honest, I didn't even realize Breida was on the Bills in the first place. In what quickly became a garbage time game, they clearly felt confident enough in Breida to bring him into the backfield, further complicating the mediocre committee of Zack Moss and Devin Singletary. I cannot stand when teams run a committee backfield, and the Bills running game has been incredibly uninspired in comparison to the rest of the offense throughout this season. Breida came out nowhere to score a rushing and received touchdown on very few targets, making me suspect that they were just trying him out on offense. I do not think he will put up numbers like that again, but he definitely merits some consideration as a potential stash pick.