NROTC Brings Different Perspective to the Bronx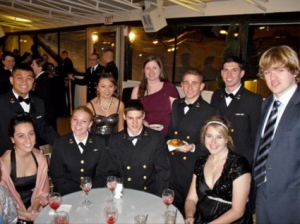 By JEFFREY COLTIN
Bronx Correspondent
Twice a week, a couple dozen Rose Hill students wake up long before sunrise.  While their more procrastination-inclined classmates are still awake writing papers for the day, this close-knit crew fills into cars and drives south before 5 a.m.
Near the moonlit waters of the  Long Island Sound, they do their rituals: pushups, sit-ups and running.  The students are Fordham's midshipmen, part of the Fordham Naval Reserve Officer Training Corps, or NROTC, and their early-morning experiences give them a unique perspective on the Bronx.
"Tuesdays and Thursdays we have PT [physical training] in the morning, and we have to be there around Zero-Five-Ten," Troy Gaub, FCRH '15, said. "So you know we're getting up at like 4:15, 4 in the morning to get ready and everything."
The midshipmen have PT at SUNY Maritime, a college in the East Bronx.  Even though it is only a ten-minute drive from Rose Hill in the mornings, Maritime seems like a world away.  The campus is on a peninsula, almost completely surrounded by the Long Island Sound.
"It's right under the Throgs Neck Bridge," midshipman Phil Reilly, FCRH '15, said. "It's actually a beautiful view of the city skyline."
Reilly is joined by 23 other Fordham students, male and female, who make up Fordham's NROTC. These midshipmen join with students from SUNY Maritime and a couple other area schools to make up a 150-person battalion.
On Wednesdays, Fordham's midshipmen make the drive to Maritime in the afternoons for naval classes. Students take a variety of classes depending on the year and week, from current events, to navigations, to the history of the Navy.
There is also a leadership lab, which consists of the entire battalion, Reilly said. "It's more of an organizational period, teach you how to march, stuff like that."
Reilly says being in NROTC has allowed him to see a different part of the Bronx.
"Most students don't even know where Maritime is!" he says. "It's definitely changed my experience as a college student, just meeting the people I've met, doing the stuff I've done, and getting to explore parts of the Bronx that I would have never gotten the chance to.  And it's something as simple as going down a street that I've never gone down before to shop in a store that I've never heard of before."
SUNY Maritime is in the Throggs Neck neighborhood of the Bronx. While the Fordham midshipmen never leave campus, they see a lot of the neighborhood while driving.
Reilly said it is classic suburbia. "There's no apartment complexes, it's not busy at all … If you were just placed there, you wouldn't realize that you were in the Bronx."
But Reilly is quick to add that the Bronx's tough reputation is undeserved. "Does the Bronx have its troubled spots? Yeah, but so does every borough. But I think that's what's awesome about New York City and each of the five boroughs just in general: [finding] the hidden gems."
Fordham's midshipmen know their East Bronx waterside workouts are more than just a way to stay in shape.
Gaub said he's already jumping into the real world. "I know that once I graduate there's no downtime — I'm going to be in charge of people's lives and it's a big responsibility, and it's sometimes hard to wrap your head around, but if it's what you want to do then it's what you want to do."