SJP Files Lawsuit Against University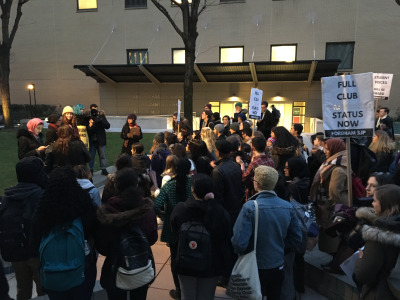 By Victor Ordonez
Several Fordham students filed a lawsuit against the university on April 26 over its refusal to grant club status to Students for Justice in Palestine (SJP). These students will be represented by the Center for Constitutional Rights (CCR), Palestine Legal and cooperating counsel and constitutional lawyer Alan Levine.
The students and organizations filed the case as a special proceeding under Article 78 of the New York Civil Law. The lawsuit will challenge Fordham's policies when it comes to freedom of expression and first amendment rights on campus, according to the CCR press release. Radhika Sainath, attorney for Palestine Legal, said in an emailed statement to The Fordham Ram that a lawsuit was SJP's "last resort."
"Fordham engaged in blatant censorship when it banned SJP," said Sainith. "The university violated its own rules and policies that say it respects free expression and guarantees freedom of inquiry when it discriminated against the students based on the viewpoint they wanted to express."
Fordham's Director of Communication, Bob Howe, previously stated that the Fordham branch of SJP was denied by the administration due to the national organization's past controversy. In a recent statement regarding the lawsuit, Howe reaffirmed the university's position.
"The university's decision not to register a Fordham chapter of Students for Justice in Palestine was based upon behavior of the national organization and other SJP chapters reported in the news media that, if true, are not in keeping with Fordham's values," said Howe in an email to The Fordham Ram.
Ahmad Awad, FCLC '17, Sofia Dadap, FCLC '18, Sapphira Lurie, FCLC '17 and Julie Norris, FCLC '19 are the students involved in the lawsuit. The Fordham Ram reached out to the individuals for comment. Awad, Dadap and Norris did not respond in time for publication. Lurie said they are trying to hold Fordham accountable.
"The lawsuit is a way of holding Fordham accountable to its students, as we cannot trust Fordham administrators to uphold the free speech commitments the university makes on its website," said Lurie.
Howe also said that students have indicated that although affiliated with the national organization, they will not receive support from, report to or be directed by them. Therefore, the university would be willing to make exceptions and allow for students to form a club with a similar message, but such a club would have to be unaffiliated with the SJP brand.
"For its part, Fordham has told the students that it will grant the club status under a slightly revised version of constitution they had proposed," said Howe. "The University, however, is simply asking that the name of the club and the proposed constitution be changed to more accurately reflect the lack of control by the national organization or chapters of SJP, which the students have already represented to be the case."
However, Palestine Legal has denied that such alternatives were offered to Fordham students. "Fordham delayed and questioned the students for more than a year, never offering to grant recognition if the students would change the name — despite what they're now claiming," said Sainith. "Fordham administrators refused requests for an appeal of the decision to ban SJP and refused repeated requests to talk with the students about this decision."
Regardless, Sainath said that students would have denied any request for changes to be made to their constitution that would have separated the club from SJP's brand.
"Even if Fordham had made such an offer, the students would have rejected it," said Sainath. "While the club would be independent from the national and other campus SJPs, which the students repeatedly conveyed and even wrote into their constitution, the name SJP conveys the fact that the students are part of a nationwide movement on college campuses for Palestinian rights. They support that movement and want to make that clear in the club's name."