By Gayathri Thelekatt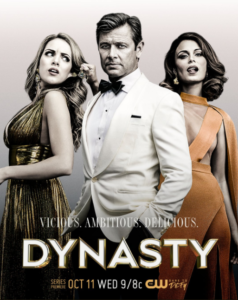 September is a month signaling new beginnings: going back to school, the coming of fall and the return (or premiere) of our favorite TV shows.
Over the past few years, Hollywood has been criticized for its lack of gender and racial diversity. Movies and TV shows are creative outlets that mirror society and humanity for the entertainment of the public. Representation in on-screen media assures that race and gender are proportionately depicted, just as they are in real life.
Movements like #OscarsSoWhite and the Lexa Pledge demonstrate the public's condemnation of mainstream media's lack of representation. Important film icons like Will Smith and Spike Lee boycotted the 2016 Oscars in protest of The Academy's whitewashing.
Other minority actors like "Jane the Virgin's" Gina Rodriguez, and "The Night Of's" Riz Ahmed, use their fame as a platform to speak out about the importance of representation of minorities and women in media. Despite the spotlight that has been cast on this issue, 2017's new fall TV lineup shows little to no improvement.
CBS has received extensive criticism about its lack of diversity over the years. According to Variety, the popular broadcast network has made few attempts to diversify the casts of its new shows in 2017.
In 2016, the network released six new programs, all featuring white male leads. In an effort to ameliorate the issue, this season the network premiers "S.W.A.T", starring African American actor Shemar Moore. Although the network shows incremental improvements in racial diversity, this season's shows introduce zero female leads. Critics have noted that the casting staff for CBS is completely white, suggesting a correlation between its staff and its portrayal of women and minorities.
ABC's inclusion of non-white and female actors has been a bragging right for the network in recent years, and its new shows set to air this fall continue the trend. Pilots like "Ten Days in the Valley," "Kevin (Probably) Saves the World" and Marvel's "Inhumans" feature a cast with an ample number of female actors, and at least one non-white actor per show. "Mayor," another show premiering on ABC this fall, features a young black male as its protagonist; the show also discusses issues of poverty and race.
On the more diverse end of the spectrum, The CW is renowned for its representation of both women and minorities. Screen Rant reports that the network boasts 67 percent female leads, and 33 percent non-white actors in their casts. This season the network premieres two new shows, including "Valor," whose cast includes a commensurable amount of female and non-white actors.
Popular shows returning to the air this fall, "Jane the Virgin" and "Blackish," feature an almost completely non-white cast. These series center around non-white families, giving dimensionality to Hispanic and black minorities and breaking out of the tired tropes.
For example, in "Blackish," Andre wants to join his school's field hockey team, and Jane Villanueva from "Jane the Virgin" goes to grad school for writing. In contrast, shows like "The Big Bang Theory" reach huge success by playing into common stereotypes of women and minorities.
Despite the fact that diversity and the representation of women and minorities continues to be a hotly debated issue, TV is a different world today than it was 20 years ago.
In the 90s, programs like "Friends" and "Dawson's Creek" dominated mainstream media. Shows like these faltered in their representation of people of color, with their leading roles exclusively occupied by white actors. Fortunately, in 2017, there are multiple series on air with non-white lead actors, or even completely non-white casts.
Even though considerable progress has been made since the 90s, the need for representation is still prevalent. Variety reports that 35 percent of the 46 lead and co-lead roles of the new fall TV lineup belong to women. Facts like this are disheartening when women make up 50 percent of the population, yet do not correspondingly appear on screen.
Although the new programs set to premiere this fall do not completely lack in diversity, TV still has a long way to go in accurately and proportionately representing women and minorities. Media has a great impact on society, so underrepresentation has consequences on a larger scale.