Fordham's First Female Ph.D.
By Katie Quinlisk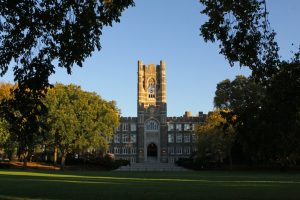 On June 11, 1941, Marie Clark Taylor, a young black woman from Sharpsburg, Pennsylvania, a Howard University graduate and a member of Fordham's Scientific Research Society's Sigma Xi, earned her Ph.D. in botany from Fordham University, cum laude.
This was 23 years before the 1964 Civil Rights Act and Title VII and 13 years before the 1954 Brown v. Board of Education Supreme Court case decision.
Taylor was the first woman, of any race, to receive a scientific doctorate from Fordham, adding to a steady accumulation of cracks in the very white, very male ceiling of higher education.
This was 21 years before the University of Mississippi admitted its first black student in October 1962, and four years before Harvard Medical began admitting female students in 1945. As A. Philip Randolph called for a March on Washington to protest governmental racial inequality, Taylor protested a quiet but similar sentiment in the labs and classrooms at Rose Hill.
After receiving her doctorate, Taylor returned to teaching science at Cardozo High School, a historically black high school in Washington D.C. where she had taught before enrolling in Fordham's doctoral studies program.
Taylor's years at Cardozo undoubtedly planted the seeds of her lifelong determination to improve classroom scientific research methods. However, Taylor's time at Cardozo was cut short by World War II. She left her teaching job in 1942 to join the Army Red Cross and serve in the Pacific.
Taylor met her husband, Richard Taylor, while stationed in New Guinea. Taylor was serving in the all-black 93rd Airborne Infantry Division unit at the time. After the war, Taylor returned to the United States as an assistant professor in the botany department at Howard University. She married Richard on New Year's Day in 1948.
Taylor gave birth to her son in Howard University's Freedman Hospital in 1950 just after Howard's final exams. According to her students, it became a joke on campus that, "because of her professional dedication, she had deliberately planned her child's delivery after final exams." This might have been a joke, but Taylor's dedication to her students was not. In fact, students became the focus of her work, particularly training teachers to improve education in the sciences.
During the 50s and 60s, Taylor used grants from the National Science Foundation to organize a series of summer science institutes for high school biology teachers. In these institutes, Taylor emphasized the benefits of using real botanical materials, pieces and cross-sections of plants found in nature to teach students about living organisms and biological processes in the classroom.
Not only were these materials affordable and easily accessible, but when studied beneath a light-microscope they allowed students to witness the life cycle of the living cell first hand.
Deeply disturbed by the number of high school teachers foreign to the benefits of using botanical materials as a teaching tool, Taylor used these summer science institutes to encourage high school teachers to adopt her innovative methods.
In the 1960s, word of Taylor's teaching institutes reached the White House, and President Lyndon B. Johnson asked Taylor to implement her methods both nationally and internationally. Taylor's summer institutes grew with generous funding from the National Science Foundation.
Back at Howard University, Taylor oversaw the construction and design of the botanical greenhouse laboratory on the rooftop of the Ernest E. Just Hall Biology Building, and served as Howard University's botany department chair until she retired in 1976. Marie Clark Taylor died in December of 1990, survived by the immense impact of her revolutionary teaching methods on scientific education. The use of real botanical materials for study has become an educational standard.
Taylor, described as a "powerhouse who worked tirelessly to improve teacher training in the sciences" by her former colleague and zoologist Margaret Strickland Collins, added her crack to the ceiling not just through example, but through research that still empowers students to pursue scientific study and inquiry today in classrooms worldwide.