By Eric Chacon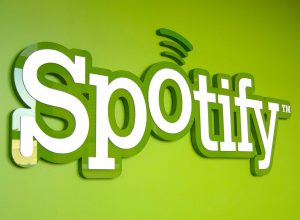 On my way home from class one evening, a notification illuminated my phone. An email from Spotify flashed across my screen. I indignantly opened it, praying I had enough money in my account to cover the $5 student membership that gets me through my long commutes and late night workouts. The mail app opened and up popped a friendly face, Louise Belcher, the eccentric and often over-the-top nine year old from "Bob's Burgers." Next to her, a notice that read: "Yep, Premium just got better: Premium for students, now with Hulu." This is a game-changer. Along with the Spotify student premium price of $4.99, I get access to the limited-commercial Hulu subscription service. Galvanized by the new service, I signed up, skipped studying and began binge-watching episodes of "Rick and Morty" to feed my existentialist, procrastinative habits.
This deal is not just for preexisting customers of Spotify. In fact, it is a part of a new forward-thinking market ploy to attract college students. According to the Wall Street Journal, by getting students signed up, Hulu can have full-time paying customers following their tenure at school. While this new deal works splendidly for our wallets and my free time, what does it mean for the content providers? How will competitors like Netflix, Pandora and Apple Music fair?
According to Lucas Shaw at Bloomberg, the $4.99 membership fee is split evenly amongst the two companies while Hulu retains the revenue from advertisements. The day following this announcement, Netflix's stock saw a sharp four point drop by market close. Hulu is looking to rival Netflix for the long run and the market shows that. By dropping pricing and appealing to students, they seek to draw-in long term consumers. Seeds have been planted, that will bloom in a later market of full paying consumers. On the other hand, the Stockholm grown Spotify is angling to please potential investors as it gears for a potential IPO.
However, the misstep is in the belief that these students will be willing to pay when the prices rise. If I know anything about being a student, it is that the vast majority of us, while being mostly middle income and at a higher standard of living than 90 percent of the world, consider ourselves "broke" and for that, we will not pay. Hulu is rearranging deck chairs on a sinking ship. Hulu has a major PR problem on their hands; they are not reaching the volume that Netflix is able to attain. Netflix is killing them because of their carte blanche production budget, funded mainly by their shareholders. To keep up, Hulu should focus on an IPO to raise their budget. By doing so, they can put resources into higher production of original shows and movies. Instead, Hulu sees itself becoming just another packaged cable company. By binding themselves to certain networks in their live TV bundle, they restrict themselves from the freely creative production model that makes Netflix so successful.
After Apple Music introduced their own video service in the form of a new show, "Carpool Karaoke," Spotify stood to lose market competitiveness by not including video services. Absorbing the video capabilities of Hulu will attract a slew of new customers that want more from the music service. Consumers that would have otherwise went to Apple Music now see their dollar stretch even further toward new shows and content that they want to keep up with. According to Tech Crunch, Spotify wants to go public. Spotify laps Apple Music with its 60 million subscribers as opposed to Apple's 30 million subscribers. To add, the Spotify-Hulu merger is yet another nail in the coffin of Apple's audio streaming competitiveness.
Some experts forecast this to be the beginning of a new era of subscription service merging. According to Jim Fosina, CEO of Fosina Marketing Group, the future of subscription services will be mergers that enable each respective company to garner new portions of the market share. But who inevitably wins in these mergers? Advertisers. As each company morphs their consumers together, advertisers also absorb those consumers. They can then reach a younger audience than before and grab more eyes than they otherwise would have. This merger is a win-win, we get more content for the same price we were paying for before. Spotify maintains its lead in the audio streaming market and Hulu at least attempts to compete with other video streaming services.
Eric Chacon, FCRH '18 is a theology and international political economy major from Oceanside, New Jersey.