First Female Student of Fordham's More College
By Katie Quinlisk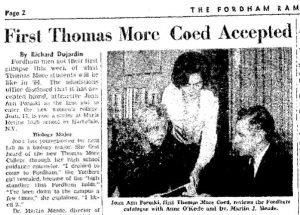 "First Thomas More Coed Accepted," announced the Nov. 11, 1963 issue of The Fordham Ram above a photo of the first female student admitted to Fordham's Thomas More College, Joan Ann Poroski, reviewing a course catalog.
The soon-to-be biology major from Yonkers, described by the Ram's student journalist as a "blond" and "attractive" "five-foot, eight-inch beauty" and a "girl of superior ability," was the first female student to be admitted to Thomas More College, Fordham's women's college opened in 1963 and named after women's education advocate St. Thomas More.
Urged by a Middle States evaluation to start "thinking like a true university," Fordham President Vincent O'Keefe proposed Thomas More as a move towards academic modernization. Poroski, the first student accepted, would leave Fordham after her first year.
Though proposed as a sister school of the all-male Fordham University, Thomas More College was founded as a separate institution. Women were initially taught in all-female classes and participated exclusively in all-female clubs and extracurriculars.
However, gender separation did not last long. Classes slowly began integrating in small numbers based on student demand and professor availability, and the Thomas More women pushed their way into the student life boys' clubs, though with significant pushback.
"Real live American beauties are set to blossom on Fordham University Rose Hill Campus," read March 26, 1963 publication of The New York Journal "—but there is many a male student who would prefer that the transformation be nipped in the bud."
"An Eve of Destruction?" asked an Oct. 1965 issue of The Ram. "The coming of Thomas More College signaled the end of uncontested male supremacy on Rose Hill. A tradition was broken, and the pride of many upperclassmen was hurt." Fordham's men suffered from Thomas-More-induced bruised ego as women joined them in the classroom and on the executive board.
The men saw their female peers as not only a blow to their pride, but also as a threat to school spirit. Thomas More College's opening coincided with the return of football to Rose Hill, and male students feared the women would water down excitement. An Oct. 1965 issue of The Ram, however, reported that the Thomas More women seemed to be feigning spirit quite expertly. "The girls may not have totally grasped the meaning of the return of football, but they do realize it is important and that they should get their spirit up for it," observed a student journalist.
The Thomas More women also found themselves at the center of a cheerleading scandal with the return of football. Fordham's all-male Booster Cheer Club was threatened by female interest in cheerleading. "The Booster Club is officially opposed to any girl cheerleaders because they would receive abuse from fans, have to make their own provision for away games, and they have been proven inefficient as cheerleaders," explained The Ram in 1965. Tensions rose to the point where the Booster Club president was quoted dissociating from the Thomas More Women in a 1964 issue of The Ram saying: "They're not my Ramelettes."
Fordham's female students also offended their male peers by a seeming lack of romantic interest. In Feb. of 1965, the Thomas More College hosted a mixer dance with Manhattan College rather than with Fordham, which upset male students.
Additionally, while Fordham's male students claimed to resist the Thomas More women, female students like Sue Kahl explained to The Ram that Fordham guys had little to worry about: "Every girl also considers marriage while she is in school, but Fordham guys are not exactly prize packages."
Fordham's men were not the only ones complaining of the women's encroachment on their male enclave. "I can't cut my history class — I'm the only girl in the class of 50," complained Thomas More's Alice Farenga.
Humorous as it may sound, this one-woman-in-the-room-of-men problem was a real fear among Thomas More students and administrators when the university announced plans to merge the men's and women's liberal arts colleges in 1972. How would women fit into the male institution? Would Thomas More's students be quieted by their male peers in the classroom, or robbed of leadership positions in their clubs? Would female students suffer in a male space? The two colleges merged that year under the name Fordham College at Rose Hill with these hesitations lurking.
Today, women comprise 58 percent of the Class of 2021. "Did we walk quietly through the third avenue gate,/Or climb, perhaps, through a friendly open window?" reflects a poem published in the commemorative booklet published by the women of Thomas Moore College's Class of 1967. "Did we blow in with the wind one autumn day,/Lie softly on the soil, and suddenly, bloom?"