By Erin Cabrey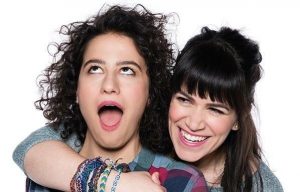 The coming-of-age friendship story is a tale as old as television's first transmission. TV viewers have seen countless incarnations of this essential genre many times before, several of which have taken place in the city we call home, New York. From "Friends" to "Girls" to "Sex and the City" to "Gossip Girl," friendships, especially those between females, have graced the small screen as they navigate the woes of adulthood with the Empire State Building looming in the distance.
None of these can hold a candle to the magic captured in "Broad City," the Comedy Central show following the everyday lives of 20-something best friends Abbi (Abbi Jacobson) and Ilana (Ilana Glazer). These women are not the typical metropolitan women sipping cosmos or cappuccinos in Greenwich Village. They hail from Astoria and Gowanus, smoking weed, riding the subway, having one night stands and occasionally trashing their local Whole Foods.
The show's pilot episode shows the ladies scrounging together enough money to afford to see Lil Wayne in concert, and similar self-contained hilarity continues throughout the show's four seasons. Their attempts at gaining employment, pursuing relationships or simply throwing a party are never seamless, as there is always a crazy neighbor, nauseous subway rider or rat infestation that seems to complicate every situation.
At the end of the day, Abbi and Ilana always find a way out together, in an unconditional, vivacious and truly amusing friendship.
Glazer and Jacobson first met while performing at the Upright Citizens Brigade theater in Chelsea, where they decided to independently produce a web series based on their friendship as they attempted to "make it" in New York. The web series ran from 2009 to 2011 before the television series premiered in 2014. The show is also executively produced by UCB alum Amy Poehler, who has also guest starred on the series, which has been a critical success since its premiere.
Well into their twenties, Abbi and Ilana's lives are far from figured out, and that idea is largely celebrated and has become a significant part of why the show is so great. The fact that they are working odd jobs to get by and are dealing with weird roommates (Bevers, the boyfriend of Abbi's never-seen roommate, is one of the highlights of the show) at their age never feels wrong.
It just seems logical and much more believable than inexplicably affluent 20-somethings thriving in Manhattan. Theirs is a much less frequently told story, an odd fact given that there are far more Abbi Abrams and Ilana Wexlers on the New York streets than Carrie Bradshaws. The ladies' lives are far from fabulous, but Glazer and Jacobson derive hilarity from the humdrum of the daily city grind.
"Broad City" thrives not only because of its stars, but also its additional cast and guests. Hannibal Buress is delightful as Ilana's on-again, off-again love interest Lincoln, who grounds the zany Ilana while never detracting from her overflowing personality. Trey (Paul W. Downs), Abbi's boss at fictional exercise studio Soulstice, is increasingly funnier as the seasons progress, culminating in the season four episode "Twaining Day" in which he does a truly impressive Ross Gellar impression. Jaime (Arturo Castro) is a highly underrated character whose performance in the most recent episode, "House-Sitting," was a true standout.
The show has been graced with amazing guest stars from Fred Armisen to Blake Griffin to Kelly Ripa, all of whom are must-see viewings. Above all other appearances reigns Hillary Clinton's, whose spot in the season three episode "2016" was not only extremely funny but also an interesting look at how much these young women were enthralled by Clinton to the point that she appears to them almost like a vision. While the episode makes for more somber viewing post-election, it is still worth a screening for Abbi and Ilana's fangirling.
The largely liberal show has also not swerved away from aftermath of the election, as they have taken the opportunity to address life in Trump's America on several occasions. The recent episode "Witches" brilliantly connects Trump's election to Ilana's sexuality in a soon-to-be iconic montage.
The duo also made the creative choice to bleep out Trump's name in the show as if censoring a swear, which has since been extended onto the internet, where the duo have introduced a "Trump-No-More" browser extension that converts the president's name in text to "Tr**p." There are also a few more subtle digs at the Trump administration scattered throughout the show, like Ilana's bedroom wall plastered with Planned Parenthood and "I'm With Her" stickers
Ultimately, the reason everyone should be watching "Broad City" is that the core of the show is a female friendship and overall female experience unlike any other seen on television today, to the extent that The New York Times noted it "privileges female friendships in an unprecedented way." Abbi and Ilana consistently put each other first in a way that is natural and kind, without it ever feeling toxic or forced.
Furthermore, the show's on-the-nose depiction of what it is actually like being a young, independent woman in New York allows for their lives to play out in a fresh, honest way that diverts stereotypes of the selfish, spoiled millennial. Most importantly, it portrays these women both separately and together as those whom women can relate to, feel connected with and root for with an exuberant "YAS QUEEN."