By Erin Cabrey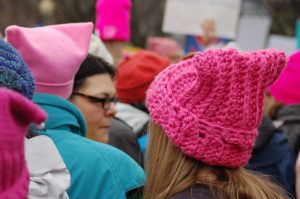 Over the past year, feminists have been wearing their hearts on their sleeves. From high fashion t-shirts to high school dress codes, women used their clothing in 2017 to fight for their rights, stand up to the President, create safe spaces, challenge conventions and celebrate all types of female bodies.
1. Feminist Slogan Tees
Feminism greatly expanded to high fashion this year, especially as Italian designer Maria Grazia Churi became the first woman to head Dior. A stand-out piece from her Spring 2017 line featured the "We Should All Be Feminists" t-shirt, a quote from the essay of the same name by Nigerian author Chimamanda Ngozi Adichie. The shirts sold for $710, with a percentage of these profits going to Rihanna's nonprofit organization, The Clara Lionel Foundation. Dior's latest collection for Spring 2018 collection also features another quote "Why Are There No Great Women Artists?" from art historian Linda Nochlin's 1971 essay discussing the barriers for females in art.
Another designer who has used t-shirts to further feminism is FCLC alum Rachel Antonoff, whose "Hysterical Female" t-shirt has been seen on celebrities like Zooey Deschanel, Mae Whitman, Emma Roberts, Gillian Jacobs and Beanie Feldstein this year. The shirt is coupled with the caption "Calling all hysterics! Let everyone on the Senate floor know who they're dealing with" on the designer's website. Antonoff's previous t-shirt designs include slogans like "Equal Pay Now" and "I'm With Human."
"I think it is vital that we all use whatever platform regardless of the medium, to discuss these issues," Antonoff told The Fordham Ram via email. "T-shirts present an excellent opportunity to get these thoughts out there. They are more or less bumper stickers for humans in that way."
2. The Pussyhat Project
The dawn of the year's feminist fashion began in January, with the Pussyhat Project, co-founded by Krista Suh and Jayna Zweiman, who created "Pussyhats," pink crocheted, knitted or sewn hats worn for the Women's March on Washington as well as the sister marches around the world. These hats were intended to be "a symbol of support and solidarity for women's rights and political resistance." The website for the project posted patterns for women to create their own hats and encouraged those who could not attend the march to make a hat for someone who could. OnJanuary 21, 2017, marches from Washington D.C. to New York City to London featured women donning pussyhats. Come 2018, these hats are expected to have a resurgence as the second Women's March is planned for Jan 20, 2018.
3. Models Speak Up
In 2017, the focus has not only been on the clothing, but also who is wearing it. This year, models have stepped forward and become vocal about injustices in the fashion industry. British model Leomie Anderson has been one of the foremost models to do this, as the founder of website LAPP, which posts content filed under hashtagged headings fashion, sex, health, politics and perspectives. LAPP also sells apparel, with pieces like a hat stating "my body, my rules" and a sweatshirt stating "My P***y, My Rules" which was worn by Rihanna at the Women's March.
In February, model Ebonee Davis gave a powerful TED Talk on being black in the fashion industry. "Change in the fashion industry isn't just about making it easier for models of color," said Davis in the TED Talk. "It's using our collective voice to rethink the way we think about ourselves, and the way we think about one another. We must examine the historical pretenses that lead us to this place and make conscious efforts to counteract them."
4. Fighting School Dress Codes
In March, students at Stanton College Prep in Jacksonville, Florida took to Twitter to show their outrage when they arrived at school one morning to find sexist flyers about the prom dress code hanging in the hallway. A flyer with a photo of one sleeveless gown was captioned "Going to Stanton Prom? Yes you are. Good girl." Three others, featuring a two-piece dress with a leg slit, a backless dress and a dress with a plunging neckline all were accompanied with the caption "Going to Stanton Prom? No you're not." Many hashtagged their outraged posts with #SCPGoodGirl, and duct taped the female gender sign to their shirts in protest. The school apologized for the flyers the next day and removed them from the halls.
Other schools this year have since stepped up and established fair and inclusive dress codes. In September, Evanston Township High School in Illinois announced an updated dress code which forbids administrators from body shaming and marginalizing their students. All clothing rules applied to "students" instead of a specific gender, and forbade administrators from such actions as measuring skirt length and calling out students in front of others.
5. Celebrating All Body Types
This year's Spring and Fall New York Fashion Weeks were the most size inclusive in history. February's Fall 2017 Fashion Week saw 27 models larger than sample size hit the catwalk, while September's Spring 2018 edition smashed this record, as 65 of these models, including Ashley Graham, walked the runway for designers like Michael Kors and Christian Siriano. In addition, September's NYFW was the very first to feature plus-size only runway shows for brands like Torrid and Addition Elle.
Pushing for designers to be body positive, actress Rachel Bloom called out major fashion houses at the 2017 Emmys for not lending dresses larger than sample sizes. The "Crazy Ex-Girlfriend" star told Giuliana Rancic on the red carpet that she bought her own Gucci dress because the designer was not willing to lend her a larger size. "That's the whole problem with the fashion industry: my body size is literally normal and healthy but when you put me next to a model I look obese," said Bloom, who sold the dress on a designer consignment website the next day.