By Aislinn Keely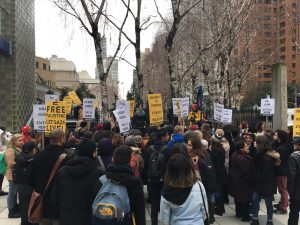 The legal battle over the lack of club status for a Fordham chapter of Students For Justice in Palestine (SJP) continued over winter break. A hearing on Jan. 3 saw SJP counsel Adam Levine argue against the motion of Fordham's counsel to dismiss a preliminary injunction motion before Judge Nancy Bannon.
The preliminary injunction motion asks Bannon to reinstate the student government's approval of SJP, according to Palestine Legal Director Dima Khalidi. "It is intended to provide immediate relief so that the petitioners don't continue to be deprived of the opportunity to organize as SJP on campus – an opportunity they will never be able to reclaim," said Khalidi.
The university has declined to comment on the ongoing legal battle until its conclusion.Bannon heard arguments from both counsels during the session. Levine argued Fordham's counsel lacked a rational basis to conclude SJP would be disruptive on campus, and that Fordham's decision to stand by the refusal of approval for the club from Keith Eldredge, dean of students at Lincoln Center, was a censorship of student views, according to Khalidi.
"He argued forcefully that Fordham's decision was irrational and arbitrary," she said.
Khalidi said that Bannon asked Fordham's counsel if the university would be able to sanction SJP in the case that the group violated school policies. This indicated an understanding that the basis for the ban was only the university's speculation that SJP would be polarizing or disruptive, according to Khalidi.
Khalidi said the evidence contradicted such speculations.
Sofia Dadap, FCLC '18, a student involved with SJP's suit who was present at the hearing, said that Fordham's counsel referred to clubs as a privilege rather than a right.Fordham's counsel argued that the university was free to refuse approval for the club because university policies do not require the institution to respect students' free expression through student clubs, according to Khalidi.
The question of a name change for SJP was addressed during the session. Previously, Fordham's counsel had said that SJP was asked if it would be willing to change its name during the club approval process in order to gain approval. Bannon questioned why the university was okay with the group changing its name, and asked if they would have to change their mission as well, according to Khalidi.
In response, Fordham's counsel said that the group would have to change its mission because the university could not be associated with SJP's views, especially support for the principles of boycott, divestment and sanctions for Palestinian rights, according to Khalidi.
Khalidi said this position differed from the Fordham's counsel position taken earlier during litigation.A tweet from Fordham SJP after the hearing alleged that Fordham's counsel misrepresented the interaction regarding a name change during the club approval process.
"Today, in court before the judge, Fordham's lawyers lied and said that during the deliberation process-before Dean Eldredge vetoed us-we were told that if we changed the name from 'Students for Justice in Palestine' we would have been allowed to be a club. That never happened," stated the tweet from @FordhamSJP.
Fordham's counsel was unable to show a case in which a club was denied on a similar basis, according to Khalidi. "The judge noted that other examples were clearly different, involving proposed groups whose missions were too similar to other groups, or applications that students themselves withdrew," she said.
Dadap said the arguments of Fordham's counsel were similar to the arguments the club heard from Eldredge and Senior Vice President for Student Affairs Jeff Gray when the club was refused approval.
"Basically what they did the entire time was repeat the exact same things that Dean Eldredge and Jeff Gray had said in the past," she said.
Bannon has taken the case under submission and is reviewing the case materials. "It's impossible to tell when she will make her ruling, but we hope that she will announce her decision soon," said Khalidi.
Khalidi said she is optimistic that Bannon understood what was at stake and recognized that the university's decision "was not supported by the facts and contradicted Fordham's own policies committing to respect students' free expression."
Many came to the hearing in a show of support for SJP, including organizations such as Jewish Rights for Peace, according to Dadap. Court capacity was 70, forcing many to wait outside the session.
"The courtroom was overflowing with people," said Dadap.