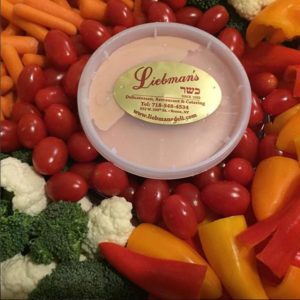 By Elizabeth Nealon
The glowing neon sign in the front window is the first clue of how "old school" Liebman's Deli is, though it is not a well-kept secret. The Liebman family prides themselves on its ability to remain true to its recipes and an atmosphere that resembles what the deli looked like when it first opened 65 years ago.
Other than Loeser's Kosher Deli & Caterer, Liebman's Deli is now just one of two Jewish delis left in the Bronx.
The small Riverdale deli is known for its fluffy matzo ball soup and, of course, its melt-in-your-mouth pastrami. The fact that Liebman's is kosher means that dairy is not served with meat, but the sandwiches are hardly lacking—they are over-stuffed to perfection. The fresh coleslaw has customers entranced and ordering pounds at a time.
In today's age of Instagram "foodie" trends, Liebman's owner Yuval Dekel believes that the deli's refusal to change is its greatest achievement.
"Time kind of stands still here. The menu, it isn't seasonal by any means," Dekel laughed. "You can get the same bowl of soup that warms you up in January and will make you sweat in July. And we're proud of that, actually." Though many restauranteurs cater to the fads of the foodie movements, Dekel knows that comfort foods don't need to indulge the food bloggers; with enough sense, they will value the reminiscent eateries which serve as the foundation for modern New York food culture.
Raised in the Bronx, Dekel was baking bread and pursuing his career as a drummer in a heavy metal band when his father, Joseph, passed away in 2002. Since then, he has faithfully led the family business. Though it opened in 1953, it was 1980 when Dekel's father purchased the deli.
The previous owners had taught a man named Marcello all their cherished recipes to maintain the business' good name. Marcello is now head chef at Liebman's and has honored those recipes all 38 years since he began.
Some of the waiters at the deli have been working there for over 20 years, and some regulars have been going to Liebman's for their whole lives. Off to the side of the counter, strollers and walkers await their dining owners.
They serve as a five-star recommendation for the passers-by who are ignorant to the bliss that is Liebman's Kosher Deli. Families gather inside the deli and enthusiastically enjoy their lunches while many customers pick up large orders.
Employees wear t-shirts boasting about their home in the Bronx and of the deli's impressive history. In the predominately-Jewish neighborhood of Riverdale, it is not shocking today to think of Liebman's success, but when the deli first opened, it was competing with over 100 other Jewish delis in the Bronx.
Dekel notes, "As the [Jewish] population decreased, delis sort of disappeared."
Liebman's maintains the old New York deli while simultaneously abandoning the idea of delis as a male dominated industry. "This is such a male-dominated type of business. It's kind of ridiculous," Dekel said.
With two female managers, Dekel hopes that other delis will follow suit and create more equal work opportunities than what have previously been available. This type of change seems quite welcome.
It is so rare to see this progression in a place so tied to tradition, but luckily Dekel and the rest of the staff have a keen sense of what the times call for—comfort food and social awareness.