By Hannah Gonzalez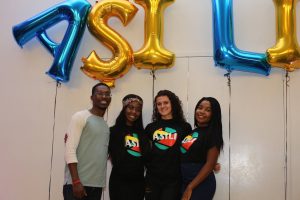 This February, departments and student groups across the university are putting on events in celebration of Black History Month. On campus, programmers include the Black Student Alliance (ASILI), the African-American Studies department, the Office of Multicultural Affairs (OMA) and the athletics department.
Associate athletics director Joel Lawson said he hopes the partnership between the athletics department and ASILI will bring the celebration of Black History Month to a wider audience.
"Especially at Fordham, where such a small percentage of students and faculty are of African descent, the event is a great opportunity for education," Lawson said.
On Feb. 7, the athletics department will put on the "Hoops and Heritage" Black History Month basketball game. Lawson hopes the game will be the first step in an annual tradition of bringing Black History Month education to game attendants.
"It's bigger than Fordham," said Lawson. "It's about educating those who never had the opportunity or the interest in learning more about the culture."
ASILI members will be passing out t-shirts and providing a slideshow of African American Fordham alumni to be played at the game. The Southeast Bronx Neighborhood Centers (SEBNC) Clovers, a local dance team, will also perform during halftime. Their routine will center on education about gun violence which has historically affected many young members of the African American community, according to Lawson.
The partnership with the athletics department is one of ASILI's many contributions to Black History Month, according to Charlotte Hakikson, FCRH '19, executive club secretary of ASILI. The first ASILI event of the month was the Being Black at Fordham panel on Feb. 2.
Upcoming programming includes a lecture by Na'Im Najieb, the author of "Love is not a Game," on Feb. 7, streaming and discussion of James Baldwin film I Am Not Your Negro on Feb. 9, a fashion show to showcase local artists of color on Feb. 23 and, on Feb. 28, an open mic night in Rodrigue's Coffee House to shed light on the creativity and passion of overlooked artists.
"Major themes we're going for with our programming are love, unity and bridging gaps," said Hakikson. "Our events allow for people to speak their minds, while also ensuring they'll be heard."
Additional programs throughout the month will be supported by partnerships with the Dorothy Day Center, OMA, Aramark and Campus Ministry. According to Hakikson, one of the club's primary goals this year is to make their role on campus more prominent.
"We want the Fordham community to know who and what ASILI is, and know that we are here for them," Hakikson said.
Departments such as African-American Studies are also contributing to the month's celebrations. One of the major departmental events is Blending Scholarship and Activism: Race, Politics, Religion and Social Justice. This panel discussion will take place at Lincoln Center on Feb. 23 and will feature Rev. Bryan Massingale, S.T.D., professor of theology, Mark Chapman, Ph.D., associate professor of African and African-American studies and Brandy Monk-Payton, Ph.D., assistant professor of communication and media studies.
Mark Naison, Ph.D., professor of History and African-American Studies, said the department intends to include the Bronx community in Black History Month on campus. He said the separation between Fordham and community was artificial, and had spoken to Public Safety in order to allow Bronx residents on campus for the department's events.
"Our goal as a department is to make Bronx residents feel welcome, and to make Fordham students appreciate the culture of the Bronx," said Naison.
Naison has helped to organize the Afro-Latinx Forum on Feb. 12 featuring Felipe Luciano, original member of the Last Poets and co-founder of the New York branch of the Young Lords, as well as bomba drummers from the Bronx. The forum will tackle the problem of the artificial separation between people of African and Latinx heritage.
"You have a historic silence about the African component of culture of countries like the Dominican Republic and Puerto Rico, and this conversation opens it up," said Naison.
The Office of Multicultural Affairs (OMA) has several events planned for the month. On Feb. 5, the OMA hosted jazz musician Galen Abdur-Razzaq for the "Notes at Noon" performance in the Rose Hill Marketplace. A partnership with Aramark also enabled them to feature cajun dining to complement the theme.
Women's Empowerment will also host a Black History Month-themed meeting entitled, "People Left Out of Your Textbooks." The group plans to discuss important figures in the black community at the Feb. 6 meeting.
The Racial Solidarity Network, a training course first introduced in the fall, began on Feb. 6 at Rose Hill and was intentionally scheduled for the month of February. According to Juan-Carlos Matos, assistant vice president for student affairs for diversity and inclusion, the training will allow students, faculty and staff to engage in conversations about race during Black History Month.
"We talk about what sort of ways we as a community can think about race and ethnicity with regards to the campus," said Matos.
The Racial Solidarity Network was also put on at Lincoln Center. There, OMA is also putting on a Colorism program which, according to Matos, will tackle the subject of how internalized racism is reproduced in communities of color.
"It's going to be dialogue-based," said Matos. "We're bringing people together and having them talk about their experiences with that topic."
Matos expressed his desire for the appreciation of black history to become part of the campus culture outside of the month of February.
"Yes, this is a time to celebrate it, yes, this is a time to highlight it," said Matos. "But it shouldn't be the only time the Fordham community is thinking about the importance and contribution of black and African-American people."