"Being Black at Fordham" Panel Dicusses Race and Representation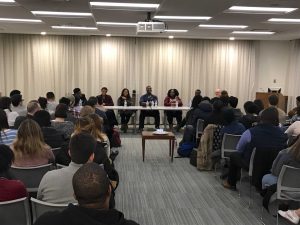 By Suresh Hanubal
The "Being Black at Fordham" panel, held Feb. 2, tackled issues of race, income and socioeconomic status during its two hour runtime.
The forum began with an introduction of its panelists, who were, from left to right, Kendall Lewis, FCRH '11, Chris Anderson, FCRH '18, Anike Tella-Martins, FCRH '20, Manny Adeyeye, FCRH'17, Finlay RD Tychelle Graham and Carl Jean-Pierre, GSB '20. Immediately after introductions, the panel delved into the issues that affect Fordham's black student population on a daily basis.
The panelists compared their experiences at Fordham to their encounters in other white majority spaces, including UPenn, boarding school or high school in the suburbs.
"The experience has been eye-opening, and I've learned just how important representation is," Jean-Pierre said.
Chris Anderson, FCRH '18 ,said spaces for black students are important.
"It's always nice to find a space to be able to express yourself with people who look and have had similar experiences to you," said Anderson.
Mark Naison, Ph.D., professor of History and African-American Studies, also discussed how Bronx residents view Fordham. He said some residents view the campus as a "Forbidden City:" a place surrounded by tall gates, filled with students of mostly higher socioeconomic status and inaccessible to the local community.
After the panelists spoke about their own experiences, the floor was opened for questions. The discussion addressed the difference between white friends and white allies, with the panelists elaborating on the distinction between the two.
"Only four white friends I know would actually help me due to the their white privilege," said Tella-Martins.
This willingness to use white privilege to actively promote equality separates friends from allies, according to the panelists.
The panel also addressed the experiences of black people conversing about race at Fordham. Tella-Martins talked about her experience befriending a group of white students during her freshman year that consistently used derogatory slang, specifically the n-word. She said they would ignore her protests against their usage of the word.
"My race is not something that you can choose to ignore," said Tella-Martins.
She also spoke on her experience in her residence hall the day after the 2016 Presidential Election, when people made racially charged comments such as, "if you don't like it [the election result], why don't you go back?"
Graham said that she noticed similar racial insensitivity in a program held after the 2016 election.
"I've never seen so much tribalism," she said.
Audience member Jordan Dabney, FCRH '21, asked panelists about the expectations associated with their race.
Adeyeye said white people have addressed him with certain topics based on his race.
"A lot of white people will come up to me and talk about a certain mixtape that just dropped," he said. "You cannot address me a certain way, just because of how I look."
The panel also discussed ways in which Fordham can address the aforementioned issues that people of color face.
"The school needs to make a stronger effort to reach out to minority communities," said Jean-Pierre.
Moderator Dr. Naison agreed, noting that the Freshman class at Fordham has only 64 Black students out of a total class size of 2,238. He said that much of this may be due to the U.S. News and World Report college rankings that push colleges such as Fordham to accept kids with high standardized test scores in order to improve their rankings, to the detriment of diversity.
After the panel concluded, Nia Johnson, FCRH '21, said that she expected insensitive comments directed towards the panel but was pleasantly surprised when this did not occur.
Sarah James, FCRH '21, said she found the panel informative and that more events like it should be held in order to continue to raise awareness about these issues.