By Andrew Posadas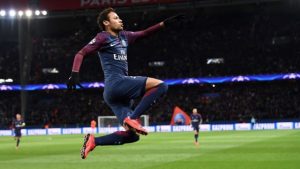 This year, Feb. 14 is not just another Valentine's Day for me and other soccer fans. On the contrary, my initial thought wasn't on the holiday. Not on elegant roses or superfluously written cards shaped in hearts. Not on plush teddy bears or boxes of chocolates in which the receiver ends up only eating half of it anyways. Feb. 14 has something else in store for me: an epic showdown in the UEFA Champions League between two powerhouse squads.
Tomorrow begins the round of 16 in Champions League play and continues until Wednesday. Out of the four games played Tuesday and Wednesday, one game unequivocally stands out among them: Real Madrid of Spain faces Paris Saint-Germain of France.
Obviously, the primary theme of Valentine's Day is love. You celebrate by giving and receiving tokens of affection from your significant other, family, secret admirers, etc.
Now answer me this: Doesn't this also apply to things that we love? Namely sports?
What better way to enjoy Wednesday afternoon than watching the most anticipated game in the biggest soccer tournament outside of the World Cup? This match has everything we love about soccer: Skill and drama.
Skill? Check. We have two of the best footballers in the world at the forefront of this matchup — Cristiano Ronaldo and Neymar. Ronaldo is the more experienced of the two in Champions League play. He holds the record for most goals in UCL history, amassing 114 career goals scored. Let's also not forget the fact Ronaldo is attempting to lead Madrid to its third consecutive Champions League title. Ronaldo's resume is filled to the brim with accomplishments.
What about Neymar?
The 26-year-old has had his own success in the Champions League. Three years ago, Neymar scored the goal to ensure Barcelona's 3-1 victory over Juventus of Italy in the 2015 UCL final. However, skeptics were not impressed, citing the fact that Superstar Lionel Messi was the driving force of their championship run. This time around, there is no Messi on his team. PSG will go as far as the Brazilian star takes them. Now looms the question: How far can a Neymar-led squad go in the UCL tournament?
Drama? Add another check. My reaction upon seeing these two teams drawn against each other in the round of 16 was bitter sweet. Sure, it's an incredible matchup. Something all soccer fans were hoping to see at some point. Just not right now. We'll see two great games between Madrid and PSG to determine who moves on to the quarterfinals. Read the previous sentence again. The quarterfinals! Most believed this was a matchup we'd see in the semi-finals or perhaps a potential UCL final, and both teams are favorites to win this year's Champions League.
Now, whoever loses will be devastated. Both have aspirations of reaching the final and winning it all. To lose in the round of 16 can only be characterized as complete and utter catastrophe. Neither team can afford to be defeated. The element of desperation looks to bring out the best of both squads. Not to mention, there are rumors that tie Neymar to Real Madrid in a potential transfer move. If Neymar and PSG are eliminated by Madrid, would that entice Neymar to jump ship and join Ronaldo's crew? The adage does say "if you can't beat 'em, join 'em."
So, to all soccer and sports fans around, be sure to tell your prospective Valentine that this Wednesday, you plan on giving them all your attention…right after the Real Madrid-PSG game ends.
Happy Valentine's Day!