By Jack McLoone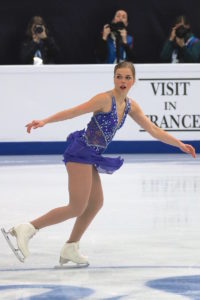 While she may have been known as Nicole Rajic while she was studying at Fordham, Nicole Rajicova is so well known that she has her own detailed Wikipedia page.
Rajicova is the Slovakian version of Rajic, so she uses that when she competes for her parents' home nation as a figure skater.
While she may have majored in global finance and business (and minored in mathematics) at the Fordham Gabelli School of Business at Lincoln Center, Rajicova's current sights are on a different global scale: the 2018 Winter Olympics in Pyeongchang.
"My parents first put me on the ice when I was three years old because they thought it would help me with my balance," said Rajicova. "Ever since then I thought it was really fun and would always ask my parents to take me skating."
From the age of three to 18, Rajicova developed from a girl needing some help with her balance into an Olympics-caliber athlete. And she did so living in New York City, which, as the Wall Street Journal recently covered, is a desert of Winter Olympics athletes.
Rajicova's first Olympics were at Sochi in 2014. While you hear stories of kids knowing they were Olympic athletes from the time they were small, Rajicova's story was a little different. She said it took until she was about halfway through the season leading into the Sochi Olympics that she realized she had a shot.
"I started competing for Slovakia about a year and a half before that, and never actually thought I'd make it to the Olympics," she said. "All I can say is that hard work really did end up paying off, and ultimately I was nominated to represent Slovakia in Sochi."
While she was born in the United States, Rajicova grew up in a very Slovakian household. Her parents met in Slovakia and moved to the US before she was born, but have kept the culture a part of both her and her younger sister's lives, and counts herself as lucky to embrace the cultural traditions she grew up with and where the rest of her extended family lives.
"It also means the world to my parents," she said of competing under the Slovakian flag. "Luckily, they are now able to visit home significantly more often than they were able to before, because I usually have two competitions in Slovakia (or at least close to Slovakia) a season."
Since she spoke Slovakian in her home, it also allowed her to quickly bond with other Slovak skaters and be accepted despite having always lived in the US.
Rajicova took a gap year after high school, which happened to match up with her chance to represent Slovakia at the Sochi Olympics. That timing allowed her to focus solely on training for the Games.
"The Olympics in Sochi were absolutely incredible," she said. "I had a wonderful time, but it was also very nerve-wracking and stressful. I was only 18 years old so I didn't know what to expect from such a big event."
While Rajicova enjoyed training for the Olympics, she said the year off made her all the more exciting to start her academic career.
However, once she got to Fordham she needed to learn how to balance her hectic training schedule with her classwork. The ability to get ice time at a top-level facility factored heavily into her school choice. When she decided that she wanted to continue to pursue skating heavily, she narrowed her search down to schools in New York and Boston, and ended up deciding to stay with her family in New York City.
A typical question we ask student athletes is how they balance school work and their sport. Those athletes have required study sessions and are in a constant team environment, much different than an athlete training independently. However, the answer for Rajicova was not all that different:
"I decided that I did not want to give up either things in my life – meaning, I didn't want to just skate and I didn't want to just go to school. So, I had no choice but to create a balance between the two. Knowing that succeeding in both school and skating were my two main priorities, I had to stay very organized, responsible, and focused throughout each and every day. Once I got into each semester's new schedule/routine, it wasn't too difficult to manage."
And what exactly that schedule look like? Rajicova describes it in one word: "hectic."
A typical day started with class at 8 a.m. By 10:45 a.m., she would be on the ice in Hackensack, New Jersey for her first training session of the day. After about an hour on the ice, she would get a break until about 2, during which she tried to get some work done. At 2, she was back training until 3:20, when she would drive back home to do some "off-ice" training, such as strengthening, cardio and Pilates. Two of those days, she 6 p.m. classes as well, so she would return to Lincoln Center.
So, you know, an easy life. Regular old college kid. I struggle to find time to "work out" in the gym even once a week.
Clearly, all of that training has paid off. Rajicova is coming off of her most successful season, finishing with her best continental result of her career at the 2017 European Championships (held in the Czech Republic, right next door to Slovakia). She placed sixth overall. And now, she will be competing as one of the 15 women representing Slovakia at the Pyeongchang Olympics.
"I am more excited than ever to be going to my second Olympics," said Rajicova. "I have much more experience with big competitions, and I feel extremely well-trained for these games."
Rajicova, who arrived in Pyeongchang on Tuesday, will be competing in the individual women's figure skating competition. The individual women's figure skating starts on Feb. 21 at 10 p.m. EST with the short program. If she scores high enough, she would continue onto the free skate portion on Feb. 23, again at 10 p.m. EST. While there are three US women competing as well, I think at least us Rams will also being keeping an eye out for Nicole Rajicova.