News and Notes, 7-13 March 2018
By Emmanuel Berbari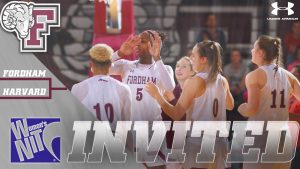 Women's Basketball Earns WNIT Bid
Despite falling short of its ultimate goal in the Atlantic 10 Quarterfinals in Richmond, Fordham Women's Basketball will still be playing postseason hoops this season. Even better, the team will host a playoff game, welcoming the Harvard Crimson to Rose Hill on Friday at 7 p.m. for a first-round WNIT matchup. This will be Fordham's fourth WNIT appearance in seven years under head coach Stephanie Gaitley, previously competing in 2013, 2015 and 2017. The Rams are 4-3 all-time in the WNIT, all under Gaitley, and will look to advance further than last year, when they fell at Penn State in the second round.
New Assistant AD Announced
Joe Gilfedder was named Assistant Athletic Director for Athletic Performance. The announcement was made by Athletic Director Dave Roach on Monday night. Gilfedder has worked as part of Dartmouth's Strength and Conditioning staff for the past three years and will be responsible for supervising the strength training and conditioning programs of 22 teams and oversee the Walsh Training Center. A 2012 graduate of Ithaca College, Gilfedder was a four-year letter winner as a football linebacker.
Two Rams Named Academic All-Conference
The Atlantic 10 announced its Swimming and Diving Academic All-Conference teams on Monday night, with a cutoff of a 3.0 cumulative GPA. Seniors Tommy Christensen and Nele Albers were selected as Fordham's recipients. The award-winners were voted on by the conference's Sports Information Directors. Christensen served as a team captain this past season, along with his 3.53 career GPA. Meanwhile, Albers scored in two individual events while maintaining a 4.0 GPA.
Leadership Academy Holds Awards Ceremony
The Fordham Leadership Academy held a dinner where it announced its newest Leaders of Distinction and Leaders of Merit. Caroline Hamann (Women's Rowing), Thomas Slattery (Men's XC/Track and Field) and Merissa Wright (Women's Track and Field) were recognized as Leaders of Distinction. Meanwhile, Erin McBride (Women's Swimming and Diving) and Stephanie Leo (Women's XC/Track and Field) placed as Leaders of Merit.