G'mrice Davis and the Final Stanza of the 2017-18 Season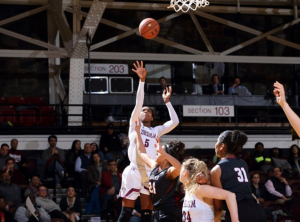 By Jack McLoone
Senior forward G'mrice Davis is going to finish atop of a number of Fordham Women's Basketball leaderboards. She finishes her career as one of the most dominant post players in Fordham history: second in rebounds (1,190) and rebounding average (9.6 per game) and fourth in points (1,497), field goals (589) and free throws (319). She also has two top-five single-season rebounding performances.
Davis played her final game in a Ram uniform in Fordham's 81-50 loss to Virginia Tech in the Sweet Sixteen of the WNIT. It was the furthest the Rams had gotten into postseason play since reaching the same round in the 2012-13 season. However, this iteration of the Rams was never supposed to be this successful.
The Rams' 31-point loss to Virginia Tech was not indicative of their overall performance this year, but I do have to spend at least a little time recapping it.
Similar to their games against Drexel in the second round and even Harvard in the opening round – though to a much lesser degree – the Rams got off to a slow start. For the second game in a row, they scored single digits points in the first quarter, getting doubled up by the Hokies 14-7.
"I think our slow start was due to some defensive breakdowns and not making shots," said head coach Stephanie Gaitley. "They were long and athletic and we had trouble scoring."
However, things fell apart in the second quarter, when the Hokies outscored the Rams 31-17, with both teams running up and down the court.
After that, the Rams went into the half down 21, 45-24, and there was no coming back against such a high-powered offense. Gaitley did not think her team was intimidated by facing a major conference opponent.
"I don't think there was any intimidation factor – our schedule prepared us for this opportunity – they brought their A game and we didn't," said Gaitley.
The second half was mostly more of the same – though without the extremes – with the Rams being outscored to the tune of 45-26 and the 81-50 final. Davis capped off her illustrious career with a 12-point, nine-rebound performance.
"I didn't really think about [Virginia Tech] being G's last game until it was over. We were playing in the moment. Once it was over we were able to acknowledge G in the locker room and it was a special occasion," said Gaitley. "She showed our freshmen that if you work hard you can achieve your goals and dreams."
One last time, let's look back at the season, particularly that freshman class.
Heading into the season, Gaitley already knew she was losing backup point guard Anna Kelly to transfer. What she didn't know was that the blossoming starting forward alongside Davis, Kate Kreslina, would choose to stay at home in Latvia to pursue professional opportunities. And then, the only other senior on the team, guard Asnate Fomina, sustained a concussion that she never returned from.
All of a sudden, Gaitley was facing the hardest out-of-conference schedule she had ever faced in her 34 years of head coaching (don't tell her I told you how many years) and doing so with a roster of one active senior, two scholarship juniors and eight freshmen.
"We dont worry about anyone's expectations other than our own," said Gaitley. "We have goals and expect to compete at the highest level every year."
While Davis was unquestionably the center of this team, none of the Rams' success comes without the play of breakout redshirt freshman Bre Cavanaugh. Cavanaugh, who sat out last season after transferring from Cal, led the team with 17 points per game. Her 578 points were eighth-most for a Fordham player all-time. She almost single-handedly pushed the team through the WNIT especially, scoring 26 against Harvard and 32 against Drexel.
The other freshman in the starting lineup was forward Johanna Klug, who struggled offensively this season but was clearly comfortable on defense, which kept her in the lineup all season long.
The other two starters were the juniors who will be looked to as senior leaders next year: guard Lauren Holden and forward Mary Goulding.
Holden, with a lot of the scoring weight taken off her shoulders, was able to settle into a role similar to Hannah Missry's from a year ago, aka made a lot three-pointers. Her 71 three-pointers tied her for fifth-most all-time.
Goulding dealt with injuries again this season, but that comes with the territory when you play all out like she does (I promise next season we will finally enact the "How Many Times Has Mary Goulding Hit the Floor?" counter). She has a different skill set than Davis, since she is capable of stepping out and hitting from three, and she is going to have to make use of all of that next year when she tries to fill Davis's role.
The other two main contributors for the Rams were, obviously, freshmen as well, in guards Zara Jillings and Kendell Heremaia. The two were basically opposite players, with Jillings serving as the Rams' primary defensive substitution and Heremaia – whose minutes fluctuated all season – serving as the Rams' offensive threat off the bench.
Gaitley praised the preseason foreign tour in Italy one last time as the reason why the Rams were capable of succeeding against the odds like they did this season. How well the team got along was a common refrain, whether it was the enthusiasm and sometimes telepathic passing that happened on the court or hanging out off the court and rumored games of Uno.
"I think the team's chemistry had a lot to do with our success. The foreign tour played a huge part in helping us jump start this cohesion," said Gaitley. "Every time we have gone on a foreign tour it, has resulted in a postseason bid. Wish we could do them every year!"
When asked to rank this team among all her seasons at the helm, Gaitley, like any coach, didn't give a straight answer. However, that doesn't mean she won't remember this team fondly.
"This team will always be special because I really do believe we got everything out of them," she said. "There were highs and lows but the highs far outweighed the lows and raised the bar for the future."