By Alvin Halimwidjaya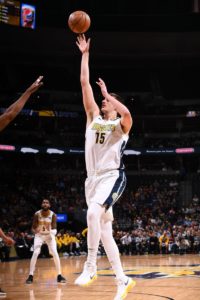 Last season, the Denver Nuggets surprised a lot of casual fans, coming in only a game behind the final playoff spot after giving the eighth-seeded Portland Trailblazers a run for their money down the stretch. However, even after nabbing Paul Millsap in free agency over the summer and an added year for the Nuggets' core to grow, Denver is still on the outside looking in, as they are a game out of the eighth spot once again with a difficult schedule; their final five games are against teams still fighting for playoff seeding. In order to fulfill expectations and avoid disappointment, the Nuggets need to stop focusing on their flashy offense and work on their defensive flaws.
When it comes to Denver's one-sided approach, no one is a better example than Nikola Jokic. After moving big man Jusuf Nurkic to the Blazers in a midseason trade in 2017, the Nuggets found a star in their Serbian center. With more freedom in the post, Jokic proved his worth, averaging 17.5 points, 12.1 rebounds and 6.2 assists through the final 28 games of the season. His repertoire of no-look passes and laser dimes unlocked a new gear in Denver's offense, allowing players like Will Barton and Gary Harris to blossom into key complementary pieces for the Nuggets going forward.
However, Jokic remains a sieve on defense due to his lack of athleticism and verticality; consequently, Denver remains stuck in a pattern of constantly trying to outscore their opponents instead of stopping them on the other end of the floor.
Despite the Nuggets' holes on defense, their situation is made worse by the injury bug that has haunted the team throughout the season. Swingman Gary Harris, who is their best perimeter defender and was a 42 percent shooter from beyond the arc last season, has been out since March 15 and might not return for the remainder of the regular season.
In addition, Paul Millsap spent a large chunk of time on the bench due to injury earlier in the season, and he's their best defender in general. Without the ability to integrate Millsap into their system, the Nuggets have been forced into the awkward situation of planning for an approach without their second-best player for a good quarter of the season. Because of this uncertainty, players have been struggling to gel on both sides of the court, and, as a result, Denver has been unable to evolve into their final form.
The Nuggets still have plenty of positives from this season; they got rid of a redundant point guard in Emmanuel Mudiay, and Jamal Murray's continued growth has boosted both his play and Jokic's ability in the pick and roll. However, if Denver wants to keep their trajectory on target and make it to the playoffs this season, they need to get Millsap acclimated to their system and lock down on defense. With games against the Blazers, the Minnesota Timberwolves and a fellow eighth-seed contender in the Los Angeles Clippers, the Nuggets are about to face their final test and find out if they're a legitimate playoff team or not.