By Griffin LaMarche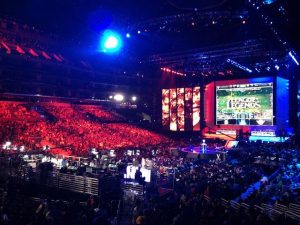 We are less than a month away from kicking off the 2018 League of Legends World Championship, and it is going to be one that is kept in the books forever. Many of the world's powerhouse teams from 2017 will not be appearing, giving Worlds 2018 a fresh look and new teams to seize the Summoner's Cup.
China looks to be the strongest region going in the tournament. With the return of Jian "Uzi" Zi-Hao to Royal Never Give Up (RNG) and the strong threats of Invictus Gaming (iG), EDward Gaming (EDG) and Rogue Warriors (RW), the LPL will easily be able to send all three representatives into the Knockout Stage. With RNG's win at MSI 2018 and China's victory at the Asian Games 2018, it is evident that it might just be China's time to shine at Worlds. Even though RNG is the obvious favorite, the true hidden gem in the LPL is Invictus Gaming. iG holds an impressive 36-2 record across the Spring and Summer Split. If Invictus Gaming can hold on to their team composition throughout the summer playoffs, expect this dark horse to make it deep in Worlds.
On the other hand, in South Korea, the dynasty of SK Telecom T1 (SKT) has come to an end, with their chances of Worlds being very slim after an abysmal Summer Split. SKT is seeded last in the Gauntlet, and the chances of them pulling off a miracle run against teams like Kingzone-Dragon X (KZ), defending World Champions Gen.G (GEN) or Afreeca Freecs (AF) are too low to count them in any contention. Kingzone Dragon-X, the other Korean powerhouse, looked unstoppable during the Spring Split. Even with the loss to RNG at MSI, KZ looked to be a threat in the summer, but faltered to new superstar team Griffin (GRF) and the formidable KT Rolster (KT). The LCK is looking to send KT Rolster, Griffin and either Kingzone-Dragon X or Afreeca Freecs to the World Championship. I predict KT Rolster will make it deep into the playoffs, potentially contending for a spot in the Grand Finals.
On the other side of the big pond, North American team TSM is looking to miss its first ever Worlds championship. With Team Liquid locking in its spot at Worlds, it looks like the other two teams are going to be Cloud 9 and 100 Thieves. TSM has always been the North American powerhouse led by mid-laner Soren "Bjergsen" Bjerg. However, TSM lost its shine after kicking Peter "Doublelift" Peng off the team, which lead him to spearhead Team Liquid to the Spring Split title and a spot at Worlds 2018. Team Liquid's roster also boasts 2013 World Champion Jeong "Impact" Eon-yeong and all-star jungler Jake "Xmithie" Puchero. For North America, all eyes are on Team Liquid to get North America into the Knockout Stage. As analyst Joshua "Jatt" Leesman commented, "For me, success is [North America] making semi-finals." Team Liquid looks to be the first North American team to reach that milestone.
All three major regions can expect to see at least one team step up and perform at the high level. I safely believe the Korean dynasty at Worlds is over, and we could definitely see new faces reach higher levels this year. The 2018 World Championship begins Oct. 1.