By Joergen Ostensen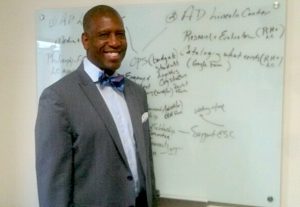 Arto Woodley, the executive director of Fordham's new Center for Community Engaged Learning (CCEL), came to his job interview with a question for Fordham.
"One of the first things I did when I was interviewed," said Woodley, "was ask the question, what would our neighbors say about us?"
He said that nobody in the room knew the answer.
Now, during his first semester at Fordham, Woodley is trying to answer that question. This summer, Woodley walked around the surrounding community asking people what they knew about Fordham. He said this produced a broad range of answers.
"My goal was to make sure…that people know we are a good neighbor and a good partner," he said.
The CCEL is integrating the work of the former Dorothy Day Center for Service and Justice (DDC) and Global Outreach under one umbrella office, according to Michael C. McCarthy, S.J., vice president of Mission Integration and Planning.
McCarthy, who ultimately made this decision, said he did so with the goal of increasing student involvement in courses and programs that engage with Fordham's surrounding community.
According to McCarthy, about 200 of Fordham's 9,000 undergraduates are currently enrolled in Community Engaged Learning course. He said wants to see that number reach 25 percent.
McCarthy said he knows this is a process that will take time and expects to see results in five years. McCarthy, who has experience with Jesuit institutions all around the country said that this will make Fordham more like those other institutions.
According to McCarthy, a change in the organization's structure was needed to give faculty the tools to create Community Engaged Learning (CEL) courses.
"We did not have the institutional infrastructure to be able to support more faculty members to do it," McCarthy said.
He also said that bringing in Woodley was important because he has made CEL a focus of his career.
"We didn't have that kind of a person before," he said.
Woodley, who attended Bowling Green University, has worked as a fundraiser at Wright State University, a non-profit CEO in Orlando, Florida and most recently for the White House as a Strong Cities, Strong Communities Fellow.
Woodley said he has understood the need for colleges to be a part of their communities for a long time. During his childhood in Toledo, Ohio Woodley had almost no contact with the nearby University of Toledo which was one mile from his home.
Later, while working as a non-profit CEO Woodley tried to help inner cities kids get to college. Now he has returned to higher education to do similar work.
"I came back into higher education to build a bridge back into the inner city," he said.
Woodley, who is leading this initiative at all three of Fordham's campuses, said he wants to encourage faculty and students to learn in the context of the communities they inhabit.
According to Woodley, universities often approach communities with the intention of saving them from all their problems.
"We are not taking that approach. We are not looking at the community as a problem to fix," he said. "We are looking at the Bronx and Manhattan and Westchester…as opportunities for us to listen to our partners and neighbors."
Woodley said he wanted to be up front with the communities, in order to create mutually beneficial relationships.
"The truth is the institutions do not have the capacity to fix anybody's problems consistently, but we do have the capacity to be a good neighbor," he said.
McCarthy said an important difference between CCEL and the previous system is that Fordham is no longer going to be engaging in service learning. McCarthy said that "service learning" can possibly connote an unhelpful stereotype.
"You are replicating certain categories that are really unhelpful and potentially harmful," said McCarthy. "It doesn't show a whole lot of respect for our partners."
Another difference between CCEL and the previous system is that Dorothy Day's name will no longer be prominently visible on Fordham's campus. Day, who founded the Catholic Worker Movement in the 1930s, spent five decades working for social justice through activism and charity on the Lower East Side of Manhattan. She is currently designated a "Servant of God" by the Catholic Church meaning she is potentially on the way to sainthood.
Day's name was attached to the DDC since 1983. Until this semester, the newly renamed CCEL office in McGinley prominently displayed her name.
McCarthy said it was unfortunate that her name will no longer be so prominent, but said that she is still a model for what the CCEL is all about.
"Dorothy Day is the exactly the kind of model of what we're talking about," McCarthy said. "She absolutely embodies the values that we are trying to move forward with."
Woodley also said he revered Day's name, even though he is not Catholic.
Martha Hennessey, Day's granddaughter who continues to be a Catholic Worker, said she wanted it to be clear that Day refused to accept an honorary degree from Fordham during the Vietnam War.
Hennessey read a letter from Day to Fordham's former president Leo P. McLaughlin, S.J. In the letter, Day explained why her pacifist understanding of Catholicism prevented her from accepting an honorary degree from Fordham.
"The existence of ROTC in the colleges and universities makes it impossible for me to accept," the letter said. "I realize that this is an extreme position but I must take it, assuring you that I consider myself honored indeed at having received such a letter as yours."
Reserve Officer Training Corps (ROTC) continues to have a presence on Fordham's campus. Hennessy said this presence is indicative of the continuing relevance of militarism.
"Preparing for the corporate world and having military training present on the campus, I'm afraid illustrates the priorities of the college," she said. "There is a huge need for other services, especially in the neighborhood of Fordham."
McCarthy said that part of the importance of the CCEL is that the progream will make it easier for students to understand college as more than just training for a high paying job.
"This is an education we hope that cultivates in them habits of citizenship, habits of justice, habits where they recognize that that their place in the community has an important moral value," he said.
For Hennessey, who is currently awaiting a federal trial for a civil resistance Plowshares Action, pacifism has been a lived experience.
"When we take positions of pacifism it compromises our ability to live lives of comfort," she said.
Hennessy said that addressing militarism is just as important now as it was during the Vietnam War. She said that a university that honors former CIA director John Brennan may not have a place for Day.
"So maybe Dorothy Day's name should not be on that campus, in light of how she felt about honorariums and what else is going on at the campus," she said.
McCarthy said that Day's refusal to accept the honorary degree was a strong statement of her pacifism and did not rule out a debate about the issue of ROTC.
"I do think that it is really a legitimate question…even sometime it could be the subject of an actual debate," he said.
Hennessy said that, as a Catholic, she believes that part of her faith is to fight for peace, and part of that fight is to have a low standard of living, like Day.
"We can't just name places after her, we have to do the work," she said.
Both McCarthy and Woodley said that they wanted to keep Day's legacy alive by creating a group of student leaders. In this program, which currently does not exist, students could potentially could be known as Dorothy Day Scholars.