By Jack McLoone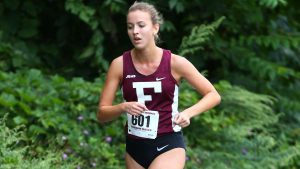 Fordham Cross Country split its teams across two meets once again; this time, instead of doing so over two weeks, it did so over one weekend. First, half the team ran in the Patty Doyle Invitational/Iona Meet of Champions on Friday, where the men's team finished sixth out of 12, and the women's team finished fifth out of 11. They followed up with wins for both sides in the NYIT Invitational on Saturday, including an individual win for freshman Bridget Alex.
On Friday, the men were paced by junior Ryan Kutch, who finished fourth with a time of 25:15.7. He outran the rest of the Ram squad, as the next Fordham runner to cross the finish line was graduate student Brian Cook in 31st with a time of 26:23.9. Rounding out the Rams' finishers were freshman Brandon Hall (41st, 26:37.7), junior Sean Sullivan (56th, 27:11.8), sophomore Christopher Strzelinski (64th, 27:25.0), junior Patrick Donahue (70th, 27:50.6) and senior Patrick Dineen (92nd, 29:26.8).
The race was held at Van Cortlandt Park in the Bronx, where the Rams also practice, and it featured the largest and most competitive field the Rams have faced so far this season. Kutch said it was good preparation for the "more important" races towards the end of the season, such as the Atlantic 10 Championship.
"[Sixth] was good in a competitive race, but we definitely need to improve on it going forward," said Kutch.
On the women's side, senior Angelina Grebe was the top finisher in 12th place with a time of 18:05.6. She was followed by another senior, Abigail Taylor, who finished 20th with a time of 18:20.0. Junior Katarzyna Krzyzanowski finished in 18:50.5, placing her in 31st. The rest of the Rams' finishers were junior Sydney Snow (36th, 19:01.5), senior Kate McCormack (41st, 19:12.7), sophomore Germaine Harbaugh (46th, 19:28.5), freshman Sarah Daniels (49th, 19:31.2) and senior Laurel Fisher (57th, 20:03.2).
While the Rams finished more in the middle of a stacked meet on Friday, the portion that raced in the NYIT Invitational on Saturday finished on top of the leaderboards. Between the women's and men's teams, Fordham had seven finishers in the top 10 and 17 inside the top 20, out of 19 total participants.
The highlight of the day was freshman Bridget Alex, who placed first for the women's team with a time of 18:06.0. She beat out Stephanie Gerland, a junior from St. John's, by a little under four seconds. That one-point difference gave the Rams the victory over St. John's, 32 to 33 (lowest score wins in cross country).
"It was very exciting to get my first win and start my season off on a positive note," said Alex. For her efforts, she was named A-10 Rookie of the Week.
Two other Rams finished in the top five: seniors Blake Elwood (third, 18:28.7) and Kelsey Coppinger (fourth, 18:45.2). They also finished directly ahead of two St. John's runners, also contributing to the Rams' slim victory. For the Rams, this bunched finish is on purpose.
"We usually try to stick together during races to feel more comfortable and motivated," said Alex. "It reminds us that we are running for each other and not just ourselves."
Rounding out the top ten for the Rams was sophomore Maeve O'Connor, who finished tenth with a time of 19:45.7. Sophomore Bridget White (14th, 20:18.4), senior Kieran Hanrahan (18th 20:59.5) and sophomore Jessica Walker-Corbett (19th, 21:09.5) wrapped up a strong showing for the Rams.
The men's side saw similar success on Saturday, despite NYIT having the first and second place finishers.
Following right behind those top two was junior Matthew Roma, who finished third with a time of 26:36.6. Just like on the women's side, he did not run alone. Finishing close behind, in fifth and sixth, respectively, were sophomores Thomas FitzPatrick (26:53.3) and Patrick Norako (26:58.8). The next Ram finishers also clustered together, finishing in 12th, 13th, 14th, 17th, 19th and 20th: sophomore William Whelan (27:22.4), freshman Patrick Tuohy (27:38.7), junior Jack Regan (27:41.6), junior Marc Guberti (27:49.6), senior Jerome Vessichio (28:00.9) and sophomore Kieran Press-Reynolds (28:06.8). All six of these Rams crossed the line within about a minute of one another.
"Racing collectively and running in a pack is something we are trying to focus on this season and implement in the remainder of the competition," said Roma. "It is always great to have teammates by your side during the race and even better having us all finished near each other."
Rounding out the men's side were sophomore Dylan Serino (31st, 29:34.5), junior Patrick Donahue (36th, 30:34.1) and freshman Jack O'Connell (46th, 32:23.0).
The wins will serve as motivation for Fordham Cross Country going forward.
"The win is nice, but it was better to get out there and be competitive as a team," said Roma.
Alex concurred: "This win gave us a confidence boost to take with us in the next weeks of training before the season really takes off."
With a week off from meets before their next one on Sept. 29 at the Paul Short Invitational (hosted by Lehigh), the Rams will have the time to build off of these wins in practice.
"We are focusing on all the little things and looking forward to the next opportunity we get to compete and wear the Block F," Roma said.