By Emmanuel Berbari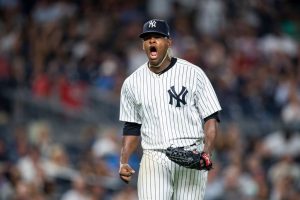 We now live in a "What have you done for me lately?" society.
It's a model that is fair but illogical when it comes to sports—a system in which individual outcomes and organizational fates are determined on a game-by-game basis.
When fans think of Aaron Boone and Brian Cashman's decision to tap 24 year old Luis Severino in tonight's do-or-die Wild Card game against the powerful Oakland A's, the right-hander's 5.57 second-half ERA, coupled with last year's horrific one-game playoff showing, comes to mind.
The fan interested in winning one game to preserve a special 100-win season for a team that could very well end up in the Fall Classic only considers what's "safe," "reliable" or "clutch."
That fan neglects Severino's brilliant 19-win season as a whole, coming off a masterful 2017 that most said "could not be matched" and Severino's 10 wins and 2.74 ERA in 15 home starts this season.
That fan neglects that Severino's final two 2017 postseason starts served as a marked improvement over his regrettable outing against Minnesota—a game the Yanks went on to win.
That fan neglects the fact that, two months ago, they would have tapped "Sevy" in a game that decided their life.
Most importantly, that fan neglects that, when push comes to shove, Severino is New York's best arm. He—not Masahiro Tanaka, not J.A. Happ—has the highest ceiling in terms of taking over a game, particularly against a righty-heavy lineup such as the one Bob Melvin will roll out on the opposing side.
In a one-game setting where one bounce, call or miscue can end your season, Boone has been on record saying that the leash with any starter would be tremendously short. And why wouldn't it be? The more conventional, by the book manager Joe Girardi pulled Severino after one out.
Here's the catch: the Yankees' best pitcher won't be afforded the opportunity to pitch to the A's lineup a third time through.
During Sevy's pitches 1-25, 26-50 and 51-75 this season, opponents have sported an OPS of .696, .573 and .588, respectively: not very good against a guy who was labeled a non-option by most of the fanbase.
During pitches 76-100, that OPS skyrockets to .883. Oakland will not be facing the young flamethrower at that point.
Instead, its lineup will face one of the best bullpen tandems in major league history—Chad Green, David Robertson, Dellin Betances, Zach Britton and Aroldis Chapman. Heck, they could be facing them by pitch 50.
Things could not have gone worse in Severino's first postseason start one year ago, but now that crucial experience is under his belt, hence why the Yanks were labeled as a group playing with house money in every game following the 2017 Wild Card win over the Twins­—the same reason they were labeled as a year ahead of schedule all throughout that magical season.
Giving your ace the nod despite second-half woes is a significant vote of confidence, especially when that ace is a young phenom.
Strong cases could have been made for J.A. Happ, who posted a 2.67 ERA in 11 starts since coming over at the trade deadline, and Masahiro Tanaka, whose own prosperous final two months and recent playoff dominance gained him a permanent place in the hearts of the Bronx faithful.
These players were formidable options, but even in an utter toss-up between the three, they were not the "right" option.
After all, if you have $200 to take someone on a date and must make a good impression, would you rather go with the best restaurant in town with a long-standing reputation, or a good restaurant that only opened a couple of months ago?
The answer is easy.
So was Boone, Cashman and the analytical department's decision to start Sevy in their most important game to date.