By Noelle Theodoulou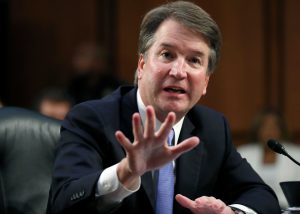 The #MeToo movement grew popular October of last year after allegations of sexual misconduct were made against Harvey Weinstein. As the viral movement spread, more victims felt encouraged to break their silence. A pivotal moment for the campaign was when 156 brave young women shared their disheartening experiences involving perpetrator Larry Nassar, who was the USA Gymnastics National Team doctor. Nassar was rightly convicted and sentenced to 40 to 125 years in prison, allowing not only these particular victims, but all victims of sexual assault/rape to feel empowered by speaking their truths.
The incidents described by the 156 women involving Nassar all occurred in spaces controlled by an athletic committee. Nassar's trial exemplified a decorum by those involved that should be maintained future sexual assault/rape cases. However, this case was not influential enough to diverge our authorities from an impudent mentality that makes excuses for immoral actions to benefit a certain agenda.
This enduring attitude has been exemplified recently Christine Ford's and Deborah Ramirez's public recounts of being sexually assaulted by Brett Kavanaugh, President Trump's nominee for the position of associate justice of the Supreme Court, when Kavanaugh's attempt to paint himself as an innocent "choir boy" was upset by allegations. The defendant's supporters have discussed party culture during youth as being typical and even acceptable. This normalization of partying and binge drinking contributes to the mindset that relieves men from upholding a workable moral compass.
The expectations of our government are to endorse fairness while also maintaining a leveled perspective when disputes spark between citizens. In this instance, Ford, Ramirez and any of the victims' supporters have been persecuted by their own president and the Republican party. President Trump has articulated his disapprobation of the victims' accusations at a press conference this past week.
He commented, "They're obstructionists. They're actually con artists because they know how quality this man is, and they've destroyed a man's reputation and they want to destroy it even more." Trump removes any credibility from the two women by manipulating the narrative by claiming the allegations are motivated by a conspiratorial, political drive.
He positions politics at the forefront of the discussion to advocate for his own agenda rather than considering the integrity of the women and their assertions. This fails to preserve an ethical code and only damages the voices and images of women.
According to the Independent article, "Brett Kavanaugh: Former Yale Classmates Speak Out After 'Choir Boy' Fox News Interview," Chris Dudley, who played basketball for Yale and was a 2010 Republican candidate for governor of Oregon, stated, "There was drinking, and there was alcohol. Brett drank, and I drank. Did he get inebriated sometimes? Yes. Did I? Yes. Just like every other college kid in America." His statement sustains a dangerous tone that attempts to normalize binge drinking in college. How can underage drinking be approved of when underage drinking is unlawful and manufactures skewed judgment and a decrease in inhibition? Not only did Kavanaugh participate in binge drinking, but he also engaged in fraternity's activities as hazing.
In the same article, Ms. Brookes, who is a supporter of Ramirez, provided an anecdote of Kavanaugh displaying ridiculous behavior that was influenced both by his fraternity brothers and alcohol. She characterizes the event as "a funny, drunk college story." With Kavanaugh acting in a blithe manner as he grabbed his crotch, hopped on one foot and approached Brookes singing a rhyme (while being appropriately equipped with a superhero cape), this instance can give validity to Ford's and Ramirez's accusations.
In the searches for vindication of Brett Kavanaugh, these public statements reveal problems in the culture of the American youth. President Trump disregards any truth in the experiences of the forthcoming victims; therefore, painting the two courageous, intelligent women as confused and crazy. Tainting the accusers' characters reopens their wounds in the most vulnerable way and causes future women to feel intimidated to speak their truth. As a result, the #MeToo movement is set back and women are discouraged from coming public with their stories.
The divulgence of Kavanaugh's heavy drinking and engagement in party life throughout his high school and college years has emerged from his peers' statements, his Georgetown Prep yearbook and his close friend Mark Judge's book called "Wasted: Tales of a Gen X Drunk." The book illustrates a mentality of entitlement among the senior-year students of Georgetown Prep. The boys came up with the idea to implement the "100-keg quest," involving a goal to drink 100 beer kegs by the end of the school year. With success, came the boys' bragging rights because drinking oneself into incoherence and disorientation was posed as a laudable undertaking.
This country continues to accept underage drinking and the party culture. As a result, the intensity of unethical actions will only increase. According to a study developed by CASA at Columbia University, statistics showed that each year from 2001 to 2005, "700,000 students were assaulted by classmates who were drinking" and "almost 100,000 students were victims of alcohol-related sexual assaults and rapes." In 2017, the National Sexual Violence Resource Center reported that 72 percent of rapes occurred while victims were inebriated.
Our society needs to reevaluate our ethical standards. As citizens, we must create movements that encourage human decency and, as philosopher Immanuel Kant professed, a perfect duty to others by treating everyone with an inherent value.
Noelle Theodoulou, FCRH '21, is an English major from Bedford, New Hampshire.