By Dominic Capone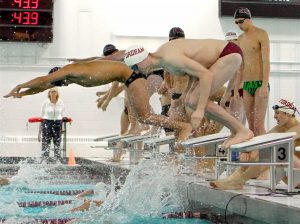 Fordham Rams' swimming and diving teams are all set to begin their brand-new season. With new faces and new challenges, it is an exciting time in the pool. Two big-name departures from the group are Joe Mercurio for the men and Erin McBride for the women. Mercurio was a Second Team All-Atlantic 10 performer in the 50 freestyle (20.02) and 100 butterfly (47.98), which stand for two of his six school records. The men will look to their rising upperclassman to fill in the missing void that Mercurio's departure leaves.
The men will be looking to improve from their 3-6 record and last-place finish at the 2018 A-10 Championships in Geneva, Ohio. The women finished 9-2 last year and placed fourth in the A-10 Championship. However, there are 13 new members in total between the men and the women, so both sides will need to get the youth up to speed in a hurry.
"It's important to support each other and work through all the hard work and pain together, for support from others does not make us weak; in fact it makes us stronger," said Mia Bullock, a junior swimmer for the women's team. "I encourage them to set their own personal goals for the season as well as participate in and strive towards achieving our team goal."
Head coach Steve Potsklan will be entering his 26th year at the helm of Fordham Swimming and Diving. His incoming freshman class has the opportunity to continue the growth for both teams. One of those freshman is Quenton Steffen, who was named All-State three times in his home state of Minnesota and holds multiple school records at Eagan High School.
After an up-and-down season last year, Fordham Swimming is looking to bounce back.
"Last season we had some unfortunate events that negatively affected our team and goals," said Bullock. "I believe if we all work hard together as a team, supporting one another, stay healthy, and have a positive attitude with a plan to achieve our goals that we will succeed."
The Fordham swimming and diving team will start its season at home against Marist on October 18. The men look for a different outcome from last year, when they lost 137-100 in 2017's opener to the Red Foxes, while the women look to continue their winning ways following a 162-76 win against Marist last year. The meet starts at 6:00 p.m.