By Maria Trivelpiece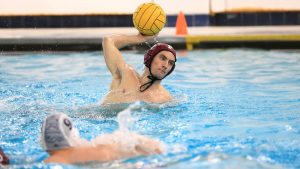 The start to their season was anything but ideal, but the Fordham University men's water polo team is not discouraged. Through hard-fought battles and many one-goal games, the squad has been making a comeback in the hopes of ending its season on a much higher note than it started. After a successful week of four victories, the Rams headed into this weekend with ample confidence.
They began their Saturday off strong, as they defeated Johns Hopkins University 13-8. Freshman Demitris Koukias was stellar, scoring three goals. Joining him in leading the team, as always, was junior Jake Miller-Tolt, who performed well with two goals and two assists. The Rams' offense was on fire, and they hoped to carry the momentum into their nightcap, where they faced off against No. 17 Bucknell University.
The Rams were not as successful in match two, as the Bison defeated Fordham 14-8. There were still some highlights in the loss, as senior Ian Watson netted two goals, and the six other players shared the scoring. The team effort was there offensively, but the defense struggled to silence the dynamic Bucknell offense.
The weekend was not yet over as the Rams had one more match the following day against the LaSalle Explorers. Looking to avenge its Saturday night loss, Fordham jumped on their opponent early. Miller-Tolt had six goals and senior Patrick Coffey had seven saves in goal. Senior Magnus Sims and junior Tristin Knoflick each two scores of their own leading the Rams to a 15-7 victory. With the win, Fordham improves to 4-5 in conference play and 12-13 overall.
The Rams have four matches before they head into postseason play. Next week, they will face off against Johns Hopkins, Navy, George Washington and Iona. After that, they will be back in the Bronx at Francis B. Messmore Aquatic Center for the MAWPC tournament. The Fordham University men's water polo team seems to be gaining momentum. They are peaking at a time that could be just right, and their postseason hopes may be achievable.