A Recap of the CFDA/Vogue Fashion Fund Awards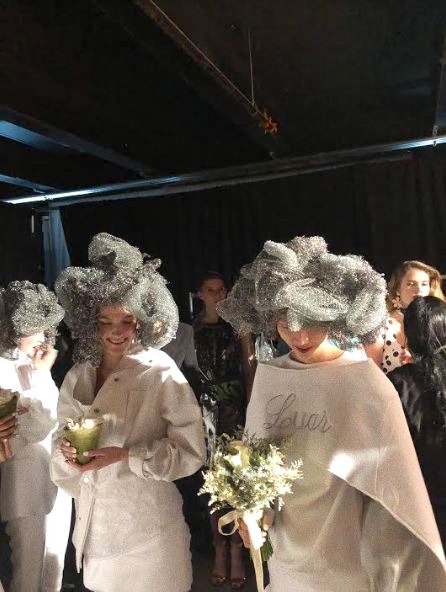 By Isiah Magsino
If you are interested in a dinner experience that consists of a drag show coming out of a Tesla, an acrobat suspended in the air, mopeds weaving in and out of the tables in French-boy aesthetic ensembles and a performance by a tap dancing team in the midst of multiple runway shows, then the CFDA/Vogue Fashion Fund Awards night is for you.
Every year the Council of Fashion Designers in America (CFDA) and Vogue put on fashion's version of "Shark Tank", deciding which designer is deserving of not only $400,000 for their label, but also recognition by fashion's biggest names.
Vogue's superfluous mindset does not limit the event to a simple decision. During awards night, the 10 finalists, chosen by the panel of names like Anna Wintour and Diane Furstenburg, put on a final runway show in front of the event's guests.
This year, the event took place in Brooklyn's Navy Yard, with appearances from people such as Karlie Kloss, Jhene Aiko, Zac Posen and Aly Raisman.
This year's finalists included Matthew Adams Dolan, Luar and Bode. Pyer Moss, founded by Kerby Jean-Raymond, was crowned this year's winner. Known for challenging social constructs and celebrating black empowerment by having an all-black cast during his New York Fashion Week runway show, Jean-Raymond presented his collection in front of the night's guests with an all-black choir performance.
The process took weeks and many, many hours to prepare; trust the mere college student who has just started and is at the bottom of the totem pole. While juggling two other editorials for other fashion editors in the office, my team and I also were met with the task of ensuring that the designers were provided with proper accessories for their respective shows. You might be thinking, "Just accessories?" but do not forget to factor in the quantity.
The day of, I received a text from my boss at the office on my way to class informing me that I would be working backstage for the event. Along with watching the rehearsals, I worked closely with the models and performers of a few of the finalists, making sure their ensembles for the show were on properly while also getting to know many of them.
Though the process was rigorous at some points, the perks of being a Vogue-staffer was apparant at the after party with many of the big-name guests and unlimited champagne.
Unlike many other runway show experiences, I particularly enjoyed this one because of the total energy by the performers and models backstage.
I worked closely with the cast of Matthew Adams Dolan, Bode and Pyer Moss who, instead of using models to present their collections, used people of different backgrounds. Dolan casted hip-hop dancers who practiced their routines right before me minutes before the show. Bode casted tap dancers from all over the U.S. while Pyer Moss and his all-black choir cast were just as down-to-earth as they were talented.
Not to sound corny, but, to me, this was the physical manifestation of the way fashion is currently moving: diverse backgrounds and open to all.