Trippie Redd Opts for a Melange of Monotony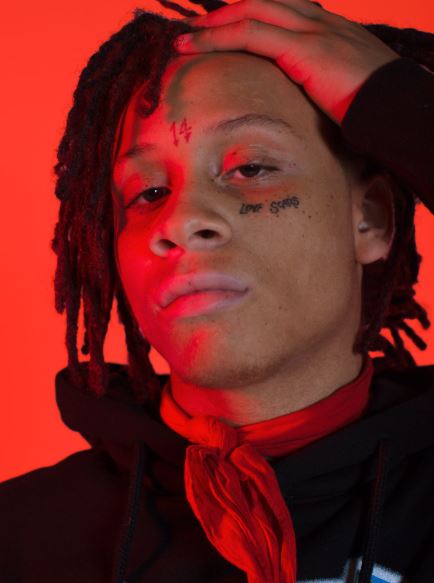 By Kieran Press-Reynolds
Trippie Redd is at the helm of emo trap, or what I call nonsense trap. It's a style whose affiliates are young enough to have been breastfed by the Internet and are personal mouthpieces for the social media generation.
They are apprenticing philosophers who find pleasure in nonsensical contradictions; they denigrate the current generation of kids for not being able to "see the positivity in our world" while bragging about blowing people's brains out and whining about how "girls are impossible to please" while abusing them in real life.
Trippie is slightly different from other emo-tistical rappers, like Juice WRLD and XXXTentacion, in that most of his peace-and-love ballads are not processed through the sort of hyper-digital studio phasing that has given some of the biggest emo trap releases, like X's ?, its trademark pristine (yet artificial) quality.
Instead, the alt-rock inspired riffs he ululates over lend a certain rawness, so when he raps about losing a lover he cared for so much, we almost sympathize with him for a second and forget he has been detained for pistol-whipping a girl.
It's this toned-down approach that has given his music some semblance of idiosyncrasy over the past couple years and kept it from slipping into total decrepitude like that of other SoundCloud crossovers (ahem, Ski Mask the Slump God and Lil Yachty).
On top of that, there is his vocal style. Trippie always sounds like he has had a really bad day, like he left his sandwich at home or stepped in a puddle. Whether he is shrieking with the shrillness of a "Fortnite"-playing prepubescent or crooning with the confliction of a society-disenchanted girl from 2007 covering a My Chemical Romance song, his inflections are always somewhat off-kilter and dissonant. There does seem to be something real in his feelings-oriented lyrics but also something very pseudo-romantic, an attempt to pander to this new generation of boys who feel like they are being ripped off just because a girl will not hook up with them.
As if his lyrical edginess needed corroboration, Trippie's music video for the lead single "Topanga" off his latest tape A Love Letter To You 3 features him in satanic getup. It is unclear whether he is seriously trying to give off Charles Manson vibes, or if it is just an attempt to provide some iconographic fodderfor his brand, but either way it was met with critical disapproval from his younger demographic.
It seems like Trippie is feeling the pull of two currents, forced to choose between pop wholesomeness and his public housing roots. The undercurrents of sin and depravity that run through "Topanga" and some of the other commercially slick tracks on the album feel like a last-ditch effort to stay true to the bleariness that once defined him.
In the past, my favorite tracks of his have been the ones in which he scratches the quasi-romanticism all together and goes straight off-the-wall, like on the Travis Scott-assisted heater "Dark Knight Dummo." That song came off his last album Life's A Trip, which I thought was a killer set of both psychedelic and sensitive tunes. "Dummo" is not a track that would ever see daylight on the radio (although its squelchy bass would sound fantastic on the subwoofer), but it is unique, aggressive and ear-catching.
"Topanga" and the rest of ALLTY3 are a complete pivot, ditching the breakneck bangers for more "middle school dance playlist friendly" options. I just do not understand how he can seriously make this sort of stuff. Watch any interview with Trippie, and you will see that he is an absolute nutball. If he were to ever get in a gunfight, he'd be the type of guy to ad-lib every AK shot ("Bang!") for kicks. He was born to go off.
Tracks like "Topanga," "Toxic Waste" and "Love Scars 3" all sound nearly homogenous, each featuring the same half-inspired sentiments about loving some girl over low tempo, piano-driven instrumentals with lots of wispy background echoes. I can imagine Trippie pow-wowing with his sound designers like, "Guys, we need to up the vibes. Beautiful romantic songs gotta have people moaning in the background." It is almost like his biggest influences were Tricky and Portishead, not the Kurt Cobain and Lil Wayne types he identifies with. The latter are two artists whose music features aggressive, noisy soundscapes where the vocals dominate.
On this album, meanwhile, Trippie's architecture is spacious and calculated; there is no unusual noise, no special beats and none of the carefree and truculent spirit that had given Trippie the edge over others in the past.
He does not deviate from the formula much, but when he does, it works well. "Elevate & Motivate" features a faster-paced beat courtesy of Swiss producer OZ. The song title is actually a double-entendre similar to the mixed-message of his "Topanga" video, where Trippie's "elevating and motivating" is actually code for flying planes and shooting people from the sky.
On "Wicked," my favorite track, a spacey  yet speedy beat propels Trippie like a nitrogen jetpack as he switches between his trademark boisterous chorus style and a more controlled flow for the verses. The textured melody shifts periodically to reflect Trippie's intonations. There is enough reverb on his hook lines that they appear dazed, almost smeared in your ears like how super fluorescent lights overwhelm your eyes, taking a while to fade away after you look at them. It is this sort of almost-psychedelia that made Life's A Trip so successful.
Besides a few highlights, Trippie's ALLTY3 manages to find the most dissatisfying equilibrium possible between campy quasi-expressionism and actual originality, resulting in a 99 cents store grab bag of middle-of-the-road songs that would not be worth putting on either your hype playlist or your sad boy playlist. Trippie needs to pick a mission statement and commit to it!