News & Notes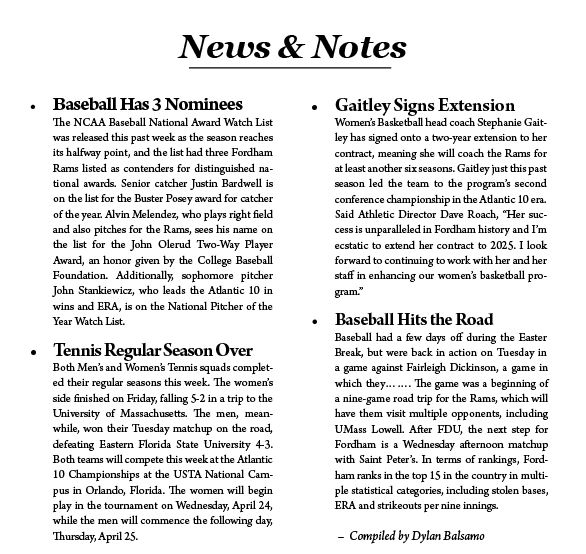 By Dylan Balsamo
Baseball Has Three Nominees
The NCAA Baseball National Award Watch List was released this past week as the season reaches its halfway point, and the list had three Fordham Rams listed as contenders for distinguished national awards. Senior catcher Justin Bardwell is on the list for the Buster Posey award for catcher of the year. Junior Alvin Melendez, who plays right field and also pitches for the Rams, sees his name on the list for the John Olerud Two-Way Player Award, an honor given by the College Baseball Foundation. Additionally, sophomore pitcher John Stankiewicz, who leads the Atlantic 10 in wins and ERA, is on the National Pitcher of the Year Watch List.
Tennis Regular Season Over
Both Men's and Women's Tennis squads completed their regular seasons this week. The women's side finished on Friday, falling 5-2 in a trip to the University of Massachusetts. Meanwhile, the men won their Tuesday matchup on the road, defeating Eastern Florida State University 4-3. Both teams will compete this week at the Atlantic 10 Championships at the USTA National Campus in Orlando, Florida. The women will begin play in the tournament on Wednesday, April 24, while the men will commence the following day, Thursday, April 25.
Gaitley Signs Extension
Women's Basketball head coach Stephanie Gaitley has signed onto a two-year extension to her contract, meaning she will coach the Rams for at least another six seasons. Gaitley just this past season led the team to the program's second conference championship in the Atlantic 10 era. Athletic Director Dave Roach said, "Her success is unparalleled in Fordham history and I'm ecstatic to extend her contract to 2025. I look forward to continuing to work with her and her staff in enhancing our women's basketball program."
Baseball Hits the Road
Baseball had a few days off during the Easter Break, but were back in action on Tuesday in a game against Fairleigh Dickinson, a game in which they won 22-10. The game was a beginning of a nine-game road trip for the Rams, which will have them visit multiple opponents, including UMass Lowell. After FDU, the next step for Fordham is a Wednesday afternoon matchup with Saint Peter's. In terms of rankings, Fordham ranks in the top 15 in the country in multiple statistical categories, including stolen bases, ERA and strikeouts per nine innings.