News & Notes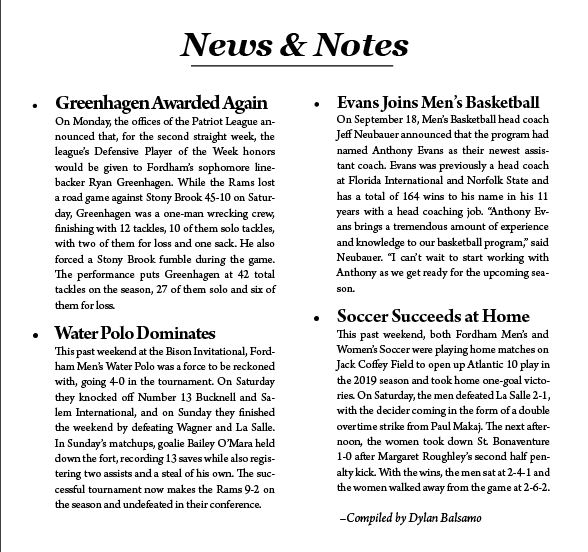 Greenhagen Awarded Again
On Monday, the offices of the Patriot League announced that, for the second straight week, the league's Defensive Player of the Week honors would be given to Fordham's sophomore linebacker Ryan Greenhagen. While the Rams lost a road game against Stony Brook 45-10 on Saturday, Greenhagen was a one-man wrecking crew, finishing with 12 tackles, 10 of them solo tackles, with two of them for loss and one sack. He also forced a Stony Brook fumble during the game. The performance puts Greenhagen at 42 total tackles on the season, 27 of them solo and six of them for loss.
Water Polo Dominates
This past weekend at the Bison Invitational, Fordham Men's Water Polo was a force to be reckoned with, going 4-0 in the tournament. On Saturday they knocked off Number 13 Bucknell and Salem International, and on Sunday they finished the weekend by defeating Wagner and La Salle. In Sunday's matchups, goalie Bailey O'Mara held down the fort, recording 13 saves while also registering two assists and a steal of his own. The successful tournament now makes the Rams 9-2 on the season and undefeated in their conference.
Evans Joins Men's Basketball
On September 18, Men's Basketball head coach Jeff Neubauer announced that the program had named Anthony Evans as their newest assistant coach. Evans was previously a head coach at Florida International and Norfolk State and has a total of 164 wins to his name in his 11 years with a head coaching job. "Anthony Evans brings a tremendous amount of experience and knowledge to our basketball program," said Neubauer. "I can't wait to start working with Anthony as we get ready for the upcoming season.
Soccer Succeeds at Home
This past weekend, both Fordham Men's and Women's Soccer were playing home matches on Jack Coffey Field to open up Atlantic 10 play in the 2019 season and took home one-goal victories. On Saturday, the men defeated La Salle 2-1, with the decider coming in the form of a double overtime strike from Paul Makaj. The next afternoon, the women took down St. Bonaventure 1-0 after Margaret Roughley's second half penalty kick. With the wins, the men sat at 2-4-1 and the women walked away from the game at 2-6-2.