News & Notes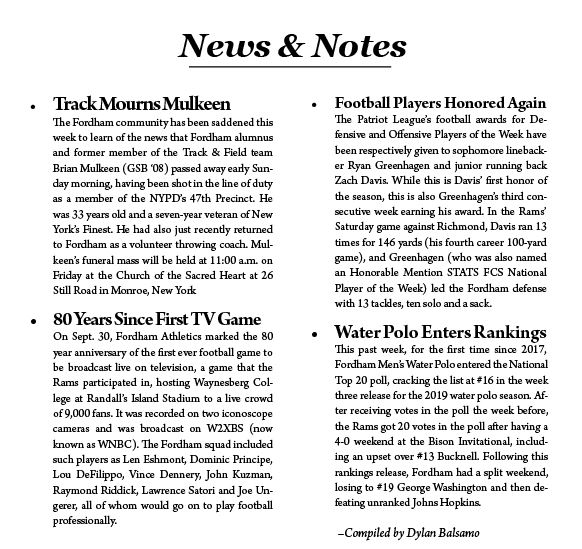 Track Mourns Mulkeen
The Fordham community has been saddened this week to learn of the news that Fordham alumnus and former member of the Track & Field team Brian Mulkeen (GSB '08) passed away early Sunday morning, having been shot in the line of duty as a member of the NYPD's 47th Precinct. He was 33 years old and a seven-year veteran of New York's Finest. He had also just recently returned to Fordham as a volunteer throwing coach. Mulkeen's funeral mass will be held at 11:00 a.m. on Friday at the Church of the Sacred Heart at 26 Still Road in Monroe, New York
80 Years Since First TV Game
On Sept. 30, Fordham Athletics marked the 80 year anniversary of the first ever football game to be broadcast live on television, a game that the Rams participated in, hosting Waynesberg College at Randall's Island Stadium to a live crowd of 9,000 fans. It was recorded on two iconoscope cameras and was broadcast on W2XBS (now known as WNBC). The Fordham squad included such players as Len Eshmont, Dominic Principe, Lou DeFilippo, Vince Dennery, John Kuzman, Raymond Riddick, Lawrence Satori and Joe Ungerer, all of whom would go on to play football professionally.
Football Players Honored Again
The Patriot League's football awards for Defensive and Offensive Players of the Week have been respectively given to sophomore linebacker Ryan Greenhagen and junior running back Zach Davis. While this is Davis' first honor of the season, this is also Greenhagen's third consecutive week earning his award. In the Rams' Saturday game against Richmond, Davis ran 13 times for 146 yards (his fourth career 100-yard game), and Greenhagen (who was also named an Honorable Mention STATS FCS National Player of the Week) led the Fordham defense with 13 tackles, ten solo and a sack.
Water Polo Enters Rankings
This past week, for the first time since 2017, Fordham Men's Water Polo entered the National Top 20 poll, cracking the list at #16 in the week three release for the 2019 water polo season. After receiving votes in the poll the week before, the Rams got 20 votes in the poll after having a 4-0 weekend at the Bison Invitational, including an upset over #13 Bucknell. Following this rankings release, Fordham had a split weekend, losing to #19 George Washington and then defeating unranked Johns Hopkins.