Tekashi Snitch-9: A Glimpse Into 6ix9ine's Wild Trial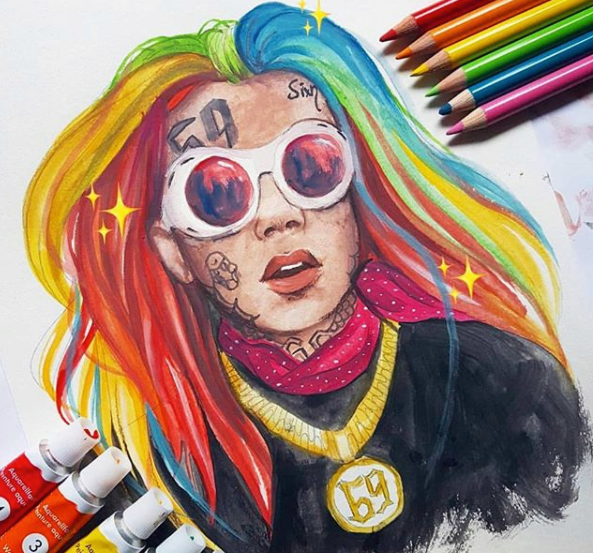 A year ago, Tekashi 6ix9ine, real name Daniel Hernandez, believed he was the next big star. Every one of his singles rocketed to the top of the Billboard charts, and his rivalries with other rappers dominated Twitter.
Now, the rainbow-haired phenomenon finds himself locked behind bars, facing 47 years to life in prison. How did the young stud with so much potential put himself in such a position?
In November 2018, Hernandez was arrested just two days before the release of his debut album, "Dummy Boy." Authorities accused him of several federal charges, including racketeering, firearm possession and organized gang activity. Hernandez, along with his ex-manager Kifano "Shotti" Jordan, bodyguard Faheem "Crippy" Walter and three others, were taken into custody and questioned about their association with a notorious NYC gang, the Nine Trey Bloods.
Although not much is known about them, the Nine Trey Bloods are feared. This violent street gang exudes control over many East Coast cities.
According to the New York Times, authorities believe that the Bloods deal heroin, crack cocaine, marijuana and additional pharmaceuticals.
The gang members also allegedly distribute counterfeit dollars and are potentially involved in sex trafficking of women. Authorities have been attempting to pin down members of the Bloods for years, and Hernandez is their newest source of information.
Hernandez joined sometime in 2017 to boost his street credibility, according to his testimony. In return, he would provide them with stacks of cash. His involvement started with a few brief cameos of Bloods in his music video for the hit single "Gummo." However, his hunger for fame persuaded him to go deeper to pursue the clout he desired.
However, this led to increased involvement in illegal activities and many new enemies. Hernandez needed an intimidation factor to protect himself, so he flexed his Nine Trey involvement. He hired Bloods to fire at rival rappers Casanova and Chief Keef on two separate occasions, robbed rivals at gunpoint in early 2018 and helped sell a kilogram of heroin in 2017.
In 2018, Hernandez flipped the switch on his old crew and decided to cooperate with the authorities immediately following his arrest. Now serving as a governmental witness, Hernandez recently partook in a three-day testimony against many of his former fellow gang members.
The most recent development in Hernandez's testimony is the conviction of two of his previous confidants, former bodyguard Anthony "Harv" Ellison and Aljermiah "Nuke" Mack.
Hernandez testified against the pair on Sept. 17, 2019, and they were found guilty on Oct. 3. Ellison was convicted of kidnapping Hernandez in July 2018. During this ordeal, Hernandez was confronted by three hooded men, including Ellison, amid a dispute over the rapper's ties to the gang. He was subsequently assaulted and knocked unconscious.
According to the New York Times, court records say "Mr. Ellison forced him to say three times that he was not part of Nine Trey, while the second abductor punched him repeatedly in the head. After that, he said, the second man urged Mr. Ellison to kill him." Following the beating, Ellison and two others stole jewelry worth $750,000 and between $15,000 to $20,000 in cash.
Aljermiah Mack, a high-ranking Nine Trey member, was convicted of dealing millions of dollars of narcotics. He is believed to have dealt MDMA, heroin and fentanyl. Mack, along with Ellison, both face life in prison and will be sentenced in Febuary 2020. The conviction of these two Nine Trey leaders is a major victory for authorities.
The testimony has also exposed other celebrities of Nine Trey involvement. On the third day of his trial, Hernandez identified Jim Jones, a Harlem-based rapper, as a voice on a Nine Trey phone conversation.
The voice considered to be Jones was recorded saying "Now he got to get violated," which is thought to be referring to Hernandez himself.
Hernandez has also accused mega-star Cardi B of Nine Trey involvement. He stated that he didn't pay attention to her work, but knew that Nine Trey members were also present in her videos. Her representatives have vehemently denied his claims, providing a statement to Billboard.
In response to his claims, Cardi posted a popular meme of Keke Palmer saying "I don't know who this man is." She has denied involvement with Nine Trey itself but admitted to being involved with a different set of Bloods as a teenager.
Throughout the trial, the Internet dubbed him "Tekashi Snitch-9." Memes of Hernandez revealing secrets, such as the Krabby Patty formula and the identity of who let the dogs out, went viral.
However, not everyone is making light of the young star exposing others to save his own skin. Many see his actions as cowardly. Popular rap star Snoop Dogg contrasted Hernandez with his friend Martha Stewart, posting on Insta, "I invite you all to remember Martha Stewart snitched on NOT ONE soul during her trial, Baby girl kept it 10 toes down and ate that prison sentence by herself, like the true baddie she is."
However, it must be noted that his testimony could help bring down Nine Trey and save hundreds of lives.
Nevertheless, the case drags on, and America is drawn in regardless. Hernandez's fate is in the hands of the court now. Everyone must wait and see if his revelations will be enough to save him.