News & Notes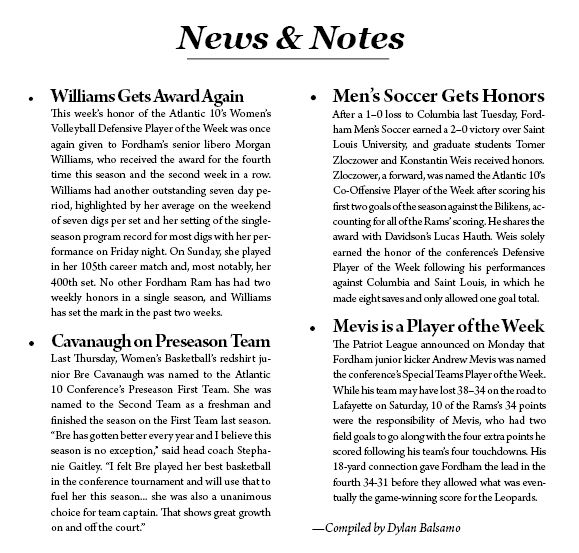 Williams Gets Award Again
This week's honor of the Atlantic 10's Women's Volleyball Defensive Player of the Week was once again given to Fordham's senior libero Morgan Williams, who received the award for the fourth time this season and the second week in a row. Williams had another outstanding seven day period, highlighted by her average on the weekend of seven digs per set and her setting of the single-season program record for most digs with her performance on Friday night. On Sunday, she played in her 105th career match and, most notably, her 400th set. No other Fordham Ram has had two weekly honors in a single season, and Williams has set the mark in the past two weeks.
Cavanaugh on Preseason Team
Last Thursday, Women's Basketball's redshirt junior Bre Cavanaugh was named to the Atlantic 10 Conference's Preseason First Team. She was named to the Second Team as a freshman and finished the season on the First Team last season. "Bre has gotten better every year and I believe this season is no exception," said head coach Stephanie Gaitley. "I felt Bre played her best basketball in the conference tournament and will use that to fuel her this season… she was also a unanimous choice for team captain. That shows great growth on and off the court."
Men's Soccer Gets Honors
After a 1–0 loss to Columbia last Tuesday, Fordham Men's Soccer earned a 2–0 victory over Saint Louis University, and graduate students Tomer Zloczower and Konstantin Weis received honors. Zloczower, a forward, was named the Atlantic 10's Co-Offensive Player of the Week after scoring his first two goals of the season against the Bilikens, accounting for all of the Rams' scoring. He shares the award with Davidson's Lucas Hauth. Weis solely earned the honor of the conference's Defensive Player of the Week following his performances against Columbia and Saint Louis, in which he made eight saves and only allowed one goal total.
Mevis is a Player of the Week
The Patriot League announced on Monday that Fordham junior kicker Andrew Mevis was named the conference's Special Teams Player of the Week.While his team may have lost 38–34 on the road to Lafayette on Saturday, 10 of the Rams's 34 points were the responsibility of Mevis, who had two field goals to go along with the four extra points he scored following his team's four touchdowns. His 18-yard connection gave Fordham the lead in the fourth 34-31 before they allowed what was eventually the game-winning score for the Leopards.