University Redirects Funds from Strategic Hiring Initiative to Chief Diversity Officer Position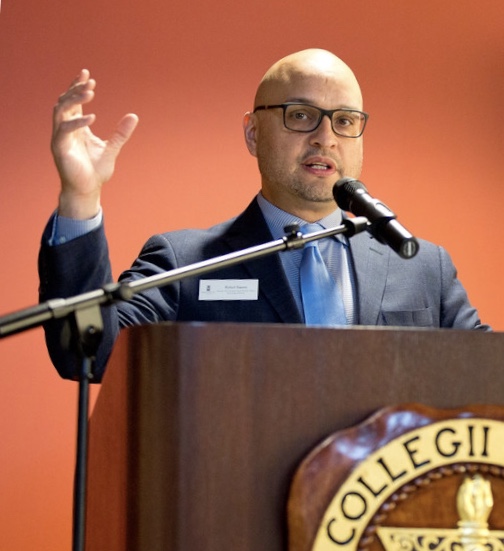 The Provost's Strategic Hiring Initiative, a temporary initiative, was put into place to enhance diversity among Fordham faculty under former provost Stephen Freedman, Ph.D., who passed away in July 2018. The university replaced Freedman's Strategic Hiring Initiative and adopted a "more strategic, comprehensive approach to recruiting diverse faculty" when it created a new position, chief diversity officer (CDO), assumed by Rafael Zapata in January 2018. According to Dennis C. Jacobs, Ph.D., provost and senior vice president for academic affairs, Zapata's leadership has proven to be superior to the Provost's Strategic Hiring Initiative.
"The funds originally allocated to [the Provost's Strategic Hiring Initiative] are still used for the same purpose — to recruit and hire an excellent and diverse faculty," Jacobs said. "Today, we work with all faculty search committees with the goal of helping them be attentive to diversity issues and work proactively to deepen and broaden the pool of candidates."
According to Jacobs, diversifying the faculty and administrative leadership is an institutional priority. He cited the establishment of the Diversity Task Force in 2015 by Rev. Joseph M. McShane, S.J., president of the university, which was originally implemented to analyze diversity and race relations on campus, as an example. One of the task force's 14 initiatives included the addition of a chief diversity officer.
Since Zapata's arrival, the university has revised its tenure-track faculty search procedures, provided related training to search committee chairs and implemented a wide range of strategies to enhance the diversity of its applicant pools, according to Jacobs.
"One of Rafael Zapata's main priorities has been to examine and improve our policies and processes around faculty hiring from top to bottom," said Jacobs. "He brought with him the knowledge and expertise regarding best practices around this topic."
The responsibilities of CDO include providing guidance and strategic resources during negotiations with candidates for hire, according to Jacobs.
Zapata described these faculty searches as having become increasingly advanced.
"We're taking the time to let people know what kind of institution Fordham is, what it means to be educated in the Jesuit tradition, as well as taking the time to identify talented folks of color or women, depending on the discipline, and a lot of times that means a lot of sweat equity and just a lot of work, outreaching and phone calls to departments and scholars," he said.
According to Zapata, it is critical to consider how the field of research and the subject matter has evolved when selecting faculty for hire.
"Whether it be in the humanities, hard sciences or social sciences, it gives you time to evaluate, to reflect, if this is the position that may come up because of greater demand by students and if that would be useful in terms of their majors," said Zapata.
A slew of events and implementations revolving around diversity is slated to take place this school year, according to Zapata. He said he is most excited about the strides his office has taken to get the Diversity, Equity and Inclusion Council up and running, as it is designed to assess the state of the university's diversity progress. He also described a new position in admissions, the associate director for diversity initiatives, which is aims to help diversify the student body.
According to Zapata, a letter outlining these changes is set to come out in January 2020 to coincide with the second anniversary of the office. He did not respond to questions regarding upcoming plans for the 2019–2020 school year.
According to Jacobs, Fordham has established a more comprehensive and effective approach toward diversifying the faculty under Zapata's leadership.
"The chief diversity officer plays a key leadership role in this area and reports to both the university president and provost," he said. "At the same time, it is imperative that all of us — administrators and faculty alike — see diversity, inclusion and equity as our responsibility and commit ourselves to these efforts."