Student-Athlete Column: Pressure in Competition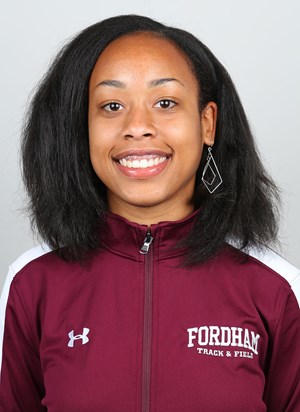 I haven't even started competing yet, and I am enjoying the season already. It has been a great experience to see the success of both the men and women's cross country teams. I was so happy to see Ryan Kutch, FCRH '20, represent Fordham at Nationals in Indiana. Overall, our team has done so well, and I can't wait to see what is to come. 
This upcoming week, we will be competing in our first meet of the season at our home track (Everyone should come out and represent!). This time last year, I was very nervous. I was scared of the competition, and as a freshman in college, I did not know what to expect. I can't say I'm not nervous now, but I feel like I have more experience, so fear is the last thing on my mind. 
As the beginning of the season approaches, I am thinking about the influence of my nerves. Why do they make us do weird things? Why do they make us feel awkward and unable to perform? Why do nerves make us feel pressured to do certain things? 
When it comes to pressure, I usually perform well under it, or I like to think that I do. The pressure of competition and the nerves that come with it are feelings that I have gotten used to over time. Some meets have different levels of pressure than others, and sometimes I like that, but other times I don't. 
When it comes to being an athlete, you have to adjust to that pressure and force either yourself to ignore it or use it to fuel you. This leads to the question of mental stability and strength in athletes. If I weren't an athlete and if I hadn't been doing this for so long, I do not know if I would be able to adjust to the mental strength that it takes to do what so many athletes do on a daily basis. Of course, being a D1 athlete at Fordham is very different from what it takes to be a professional, but the levels can be compared. 
For a college athlete, there is a lot being asked of you: performing the best that you can, going up against high competition, maintaining good grades, eating well, making connections for a successful career and much more. With all of these pressures combined with the social aspect of college, a lot of mental strength is needed to do a sport. College athletes are not as empty-minded as you think they are.
In comparison, I think of professional athletes who make their sport their career. These are men and women that have been doing their sport for years, and I wonder if they take the competition as seriously as they did when they first started. 
I think about Lebron James who has been in the NBA for 16 years. Almost every year that he has been in the league, he has played in the playoffs. Last year was the first time in a while that we have not seen James participate. 
Now, I can't make assumptions, but I know for sure that he has adjusted to the pressures of being a professional athlete and having millions of people watching him and expecting a grand performance from him.
His success, to me, means that it takes time to get things right. It wasn't until his third season in the NBA that James made the playoffs. He adjusted to the pressure and used it to propel him toward a Hall of Fame career. 
As he strives to be the best, I can only hope to be as unfazed as he is.