Men's Soccer Star Oland Selected by Portland in MLS SuperDraft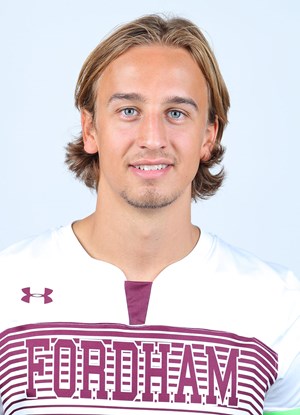 For the second straight year, Fordham Men's Soccer is sending its talent to the professional ranks.
Senior Joergen Oland — who, this past season, became just the third player in Atlantic 10 history to repeat as the conference's Defensive Player of the Year — was selected in the fourth round of the MLS (Major League Soccer) SuperDraft by the Portland Timbers. Oland becomes the third Ram in two seasons to be selected into the league, joining Rashid Nuhu and Janos Loebe, who were taken by the New York Red Bulls in last year's draft.
Oland's stellar career in maroon and white came to an end this November, with the Rams falling to Rhode Island in the A-10 tournament. He scored 15 career goals and often anchored a stellar Rams defense that, in 2019, conceded barely over a goal per game. Oland also was a member of Fordham's 2017 team that made it all the way to the Elite 8 of the NCAA Tournament.
Oland was the only Fordham player eligible to be drafted into MLS in this year's draft, and he was taken in the final round. The Fordham program will greatly miss his services, but his time in the Bronx will not be forgotten anytime soon. Now, he will take his talents — which were on full display in his four years at Fordham — to the professional level and will look to become the latest Fordham athlete to make his mark in professional sports.