Senior Found Her Place in WFUV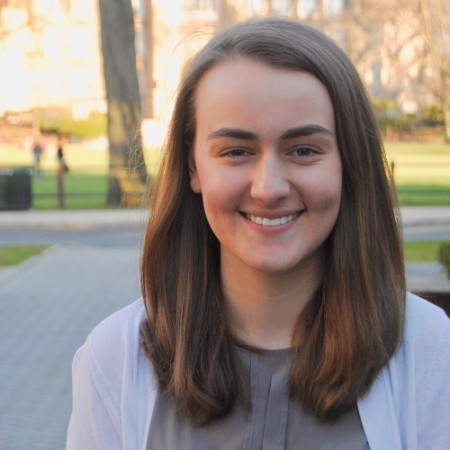 Brianna Leverty, FCRH '20, arrived at Fordham in 2016 after falling in love with the campus during a visit in high school.
"Someone recommended that I take a look at Fordham, and when I visited, I loved how it was such a perfect blend of a traditional college campus but still in a city," Leverty said. "New York was already one of my favorite places, so Fordham quickly became my top choice to go to school."
Leverty grew up in Severna Park, Maryland, roughly 15 minutes outside of Annapolis. After taking her freshman year to find her way at Fordham, she looked to get more involved, joining WFUV's sports department and looking at other clubs as well. That experience has been overwhelming for Leverty, as she just completed a season covering the New York Giants and, most notably, covered last month's Super Bowl between the 49ers and the Chiefs.
"The entire time I was in Miami, I felt like I needed to keep pinching myself, and it was definitely one of the best weeks of my life," Leverty says. "My favorite part of the experience was being able to walk on the field after the game ended and the teams cleared out."
Leverty and five of her classmates spent a portion of the week in Miami, taking part in the Super Bowl's traditional "radio row" festivities in the days leading up to the game. There, she and her classmates interviewed over 30 guests, including broadcaster Kevin Harlan, former Fordham running back and current Arizona Cardinal Chase Edmonds, Jets defensive lineman Quinnen Williams and former mixed martial arts fighter Chael Sonnen, among others. Additionally, she was one of two beat reporters who got to watch the game in person as part of the credentialed media in Miami.
"You always see the game and celebrations afterwards on TV, but having the opportunity to be part of it is something I'll never forget," she says.
Leverty's Super Bowl coverage comes at the tail end of a college career that has included covering the Giants and Rangers professionally, in addition to Fordham's teams. Even though she started a year later than some of her counterparts, she has made her way to the front of the line thanks to hard work and dedication. She realizes that it takes time to find your place at college, and she advises younger students not to worry about hitting their stride right away.
"You'll find your place at school, and when you do, you should vigorously pursue it," Leverty says. "You never know where it could lead you, both personally and professionally."
Now, Leverty's vigorous pursuit has led her to personal and professional opportunities most students could only dream of. She wrapped up an internship with "The Dr. Oz Show" last semester and is now interning at MSNBC for the spring semester. She said she doesn't quite know what she will do after graduation, but she will have plenty of options after what she has accomplished over the past four years.
"I've been able to accomplish so many goals professionally that I never could have even imagined going into school as a freshman in 2016," she says.
In her final game as WFUV's Giants beat reporter this past season, she got to ask now-fired Giants coach Pat Shurmur a question. Towards the end of his postgame presser after yet another frustrating loss to the Eagles, she plainly asked Shurmur if he had left the Giants in a better place than he found them the year before. It was a nearly perfect question, not just for the non-judgmental tone Leverty used in asking it but also the fact that Shurmur so clearly had not, with just eight wins to his name in two seasons.
The question led Shurmur to mind-numbingly proclaim that he had. Leverty, on the other hand, can honestly say the same about Fordham: she left it in a better place than she found it.