Senior Gracefully Combines Diverse Majors
What do you get when you cross a film and computer, science major? Keith Bodmer, FCRH '20. That may not sound like a typical mix, but it has been the perfect combination for Bodmer — a way to pursue his greatest passions and envision a career that is already years in the making.
But that story was not always so clear for Bodmer. When he first came to Fordham, he was a physics major. However, Fordham's diverse course load, one of the reasons Bodmer chose Fordham, allowed him to explore other options. 
"I wasn't completely sure I was going to continue with (physics) and Fordham had a core that would let me try a bunch of different things." 
That freedom would ultimately lead to film and computer science, with the former being a passion from a young age.
"I've always loved movies for as long as I can remember," he said.  
Childhood awe would evolve into friendly conversations and college courses and eventually grew into a film minor and major. For Bodmer, his passion for film would not stop by declaring it as a major and led him to major student film festivals.
"I also started entering some small film festivals like Campus Movie Fest, RODE Reel Short Film Competition and most recently the Fordham One Minute Film Fest," he said.  
Fordham's chapter of the New York Film and Television Student Alliance hosted the first One Minute Film Fest at the Lincoln Center campus just this past March. Bodmer's original film, "The Flush," received an honorable mention.
Bodmer's 2019 film, "The Gabagools," was a Campus Finalist at last year's Campus Movie Fest, the first time something he made was shown in front of a live audience.
"It was such a great feeling listening to people laugh and enjoy it," he said. 
Along with his film experience, Bodmer has been active on campus as well, specifically through the Communications Collective club.
"I became an e-board member for the Communications Collective which was an excellent way to network with alumni and students while also building my own resume," Bodemer said. 
A wide array of experience enabled him to work at the esteemed Cannes Film Festival in 2019. 
"It was probably the coolest thing I've ever done," he said.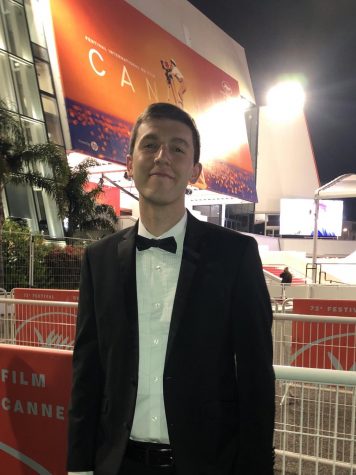 With a strong resume behind him, Bodmer is already receiving work in production and preparing for whatever may lie ahead.
"Eventually all of my small scale projects gave me enough experience to land multiple internships in production, so I really feel like things have just snowballed for me; the more I learn, the more interested I become and the more experience I try to get," he said.
However, Bodmer is not solely defined by film success — he is a computer science major as well. While some may assume that computer science lies in stark contrast to the big screen, Bodemer explained that his two majors complement each other well. 
"I feel like my two majors let me use analytic and creative things in different ways and make me a more well-rounded applicant to jobs," he said. 
However, being a double major also comes with difficulties.
"It's definitely been challenging and I have been accused of 'always working' by some friends in the past," Bodmer said. 
He knows that he made the right decision in the long run, and the positives certainly outweigh the negatives. 
"It's weird, but I feel like they prevent me from being burned out. If I need a break from one, I'm able to switch over to the other for a while," he said.  
Beyond that, Bodmer leaves his four years of study with nothing but gratitude.
"I think that computer science is a great field to have experience in and I'm incredibly thankful that I can study it while also continuing to develop as a filmmaker," Bodmer said. "I guess that goes back to why I chose Fordham, just because of all the different things you can do."
Despite his final year being cut short, Bodmer has made more than an impact during his four years and will look back at Fordham with gratitude. 
"I'd say my most memorable moments have just come from spending time with all the friends I've made here," he said. "Once I graduate I'll definitely miss them the most. I'm really glad that I'll be able to look back on Fordham fondly thanks to all of them."
So what lies in the future for Bodmer? With as many talents as he has already shown, it may very well be anything.
"I planned on taking at least a year, if not longer, to work in production before considering grad school," he said. 
 Now, with all the success that has come, the situation has changed, but certainly for the better.
"Everything that's been unfolding recently sort of threw a wrench in my post-grad plans," Bodemer said. "I'm applying to a handful of recruitment programs for various media companies to help get my foot in the door while also applying to plenty of entry-level positions."
Bodmer has taken the right steps thus far, and it is the uncertainty of the future that is perhaps the most intriguing thing.
"I'm not exactly sure where that will take me, but I'm excited by all the different opportunities." And who knows what those opportunities may lead to in the future.