Kull to Start As Interim Athletic Director July 1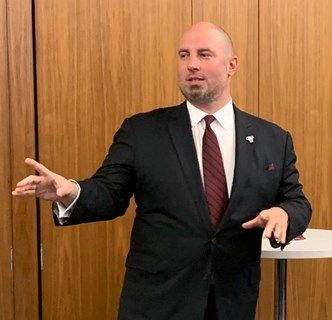 Rev. Joseph M. McShane, S.J., president of the university announced Monday that Senior Associate Athletic Director Edward Kull will take over as Fordham's interim athletic director on July 1.
"I am deeply appreciative of the confidence Fr. McShane and the Board of Trustees have placed in me with this appointment," Kull said. "I look forward to implementing a strategic plan and will leave no stone unturned to take Fordham intercollegiate athletics to its highest level."
Kull is in his third year at Fordham. According to Fordham Athletics, Kull has helped raise athletic fundraising by 51% and donor participation by 93%. Kull's appointment will be on an interim basis; Fordham will search for a permanent replacement for current Athletic Director David Roach — who announced his retirement last week — as soon as the university feels it is safe to conduct such a search.
Kull has earned praise from the Fordham community for his enthusiasm and prowess in promoting the school's athletic teams. He has also helped teams like Fordham's women's basketball squad hit record fundraising numbers. 
"Ed is a consummate professional, a gifted leader and a talented fundraiser," McShane said. "In the last three years he has impressed everyone at the University with his abilities and his can-do demeanor. We all look forward to working with him in this new role."