Last Dance Diaries: To Be Like Mike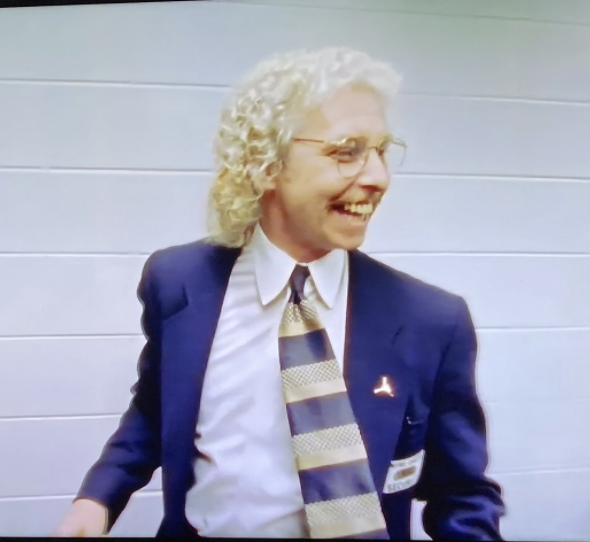 "A lot of people say they'd like to be Michael Jordan for a day or for a week, but let them try to be Michael Jordan for a year and see if they like it." — Michael Jordan
Michael Jordan is one of the greatest athletes of all time. No one achieved more global recognition than he did at the time, and he brought the NBA to new heights over the course of his career. Anyone would have killed to have had his athletic skills, team success and financial fortune.
And yet, throughout episodes five and six of "The Last Dance," we see Michael Jordan perpetually tired of that lifestyle.
The start of episode six is perfect: Jordan recording multiple takes of him saying that it isn't so fun to be Michael Jordan. By episode's end, he says that if he had to do it again, he never would've tried to be a role model. Ironically, Jordan's carefully-cultivated image is the reason why so many expected him to be a role model, and his occasional failings off the court are made all the more shocking because of that persona.
To non-basketball fans, Jordan is a brand — a face from a commercial, an emblem on a sneaker, an otherworldly basketball player. However, with his popularity and fame, the likes of which had never been seen before his time in sports, Jordan has far more responsibilities to his fans, his image and his community.
Throughout Sunday's two hours, we see all of those things at odds from time to time. When faced with whether or not to get involved in a 1990 Senate race — between Jesse Helms, longtime senator and noted racist, and Howard Gantt, who was bidding to become America's only black senator at the time — Jordan declines. He even cops to one of his most famous but oft-disputed quotes: "Republicans buy sneakers, too." Jordan has a well-publicized deal with Nike at the time, as his "Air Jordan" sneakers are the most popular in the country because of the man behind them. To get involved with politics, even when it seems so much more obvious than usual, isn't an option. Jordan isn't immoral; he's amoral. Amorality is good for business, especially in 1990. (Jordan did donate to Gantt's campaign privately.)
He was also in Gatorade commercials that featured an original song called "Be Like Mike," which became a catchy earworm for basketball fans throughout the '90s. This is part of the chorus:
"I dream I move, I dream I groove
Like Mike
If I could Be Like Mike"
By the sounds of things, being like Michael Jordan should be an aspiration, particularly for young people. You should want to live his life when you grow up. That isn't necessarily true. 
In one scene from 1998, we see Jordan in a hotel room on the road, kicking back with a cigar and watching television. He talks about how the confines of this room are his only solitude, a place where he doesn't have to be "on." As soon as he leaves his room, he's Michael Jordan. Fans flock to his side to get autographs, a wave, a smile or even just a piece of his air. Merely to be in the presence of Michael Jordan was, for some, to be as close to God as you could be on Earth.
But that existence, after years of being at the top, is overwhelming. The filmmakers of "The Last Dance" create a brilliant parallel between Jordan's difficulties with fame in 1998 and his slow burn in the early '90s, when he gets more and more worn out with being Michael Jordan. To get away from this constant grind — on top of the Bulls' attempt to become just the third team in NBA history to win three straight titles — he looks for diversions, and that leads to trouble. 
His issues actually start in 1991, when golf hustler Slim Bouler gets charged on money laundering and drug charges. In the process of investigating Bouler, authorities seize a $57,000 check from Jordan; it's a gambling debt. Jordan, one of the greatest competitors the world has ever seen, is getting tired of basketball. However, he is not tired of competition.
The theme of Jordan and gambling, which we teased in last week's column, takes a darker turn. In the midst of the 1993 Eastern Conference Finals against the Knicks, Jordan takes a fantastic voyage to Atlantic City, which is not exactly next door to Madison Square Garden, the night before Game 2. He stays until the wee hours of the morning, and the Bulls lose the next game, with Jordan running on fumes down the stretch. Jordan's father — who I'm guessing will be prominently featured next week — takes on media responsibilities for his 30-year-old son, leaving Jordan to focus solely on basketball for the rest of the series. The Bulls win in six games, and the Atlantic City detour does not enshrine itself on the list of all-time gaffes in sports history.
And, for all the issues Jordan has — one report saw him blow seven figures on a golf match to Richard Esquinas — he's still a God. Throughout the final season, Jordan is somewhat similar to a modern-day Elton John, with many assuming '97-'98 will be his final season. However, there are a couple of key differences: Jordan's farewell isn't a certainty, and Jordan is still undoubtedly the best player in the league. He isn't trotting out there years past his prime for the adoration of the crowd and a final salute to the fans. He's trying to go out on top, not only as the best player in the world but also as a champion. When one player asks Jordan to procure a couple of tickets to a game late in the season, the player says that he would be fine sitting next to God. Jordan responds that he just got two tickets from God. On a road trip to Los Angeles, Jerry Seinfeld, arguably the biggest thing on television at that time, is in awe of Jordan, not the other way around.
However, with all of this in mind, Jordan still essentially confirms that the only thing that matters, on or off the court, is winning. He even says, "I don't have a gambling problem, I have a competition problem." He doesn't need to win thousands of dollars on the golf course or at the blackjack table; he just needs to win. This is a documentary about winning no matter what, and this is the story of the man who did just that. Basketball, gambling, endorsements — it doesn't matter. He just needs to win. Hell, he even plays a security guard in a quarter roll game and loses; the security guard, in maybe the funniest moment of Sunday's episodes, hits Jordan with his signature shrug.
One of the Bulls' legendary gambling stories, though, encapsulates Jordan's competitive nature perfectly. Will Perdue, a player on the early '90s Bulls, tells of Jordan, Scottie Pippen and Ron Harper playing blackjack on the back of the team plane for thousands of dollars. Perdue and some of the less-heralded Bulls players were playing on the front of the plane for only a dollar each. Jordan would frequently leave his high-stakes game at the back of the plane to come to the front and play for one figure. When Perdue asked why, it was for a simple reason: Jordan wanted to see his teammate's money move to his pocket. The fact that it was only a dollar didn't matter.
Other Things…
Episode five was dedicated to the late Kobe Bryant, who passed away in a plane crash in late January, which feels like about 10 years ago. Bryant and Jordan played together in the 1998 All-Star Game; Kobe was frequently compared to Michael.

Jordan calls Bryant "that little Laker boy." Bryant was 19 years old, the youngest NBA All-Star ever.

The security guard who stole Jordan's quarters was John Michael Wozniak. He also passed away in January.

I'm glad director Jason Hehir dedicated a block of time to the Helms race. It's important in understanding Jordan's unwillingness to navigate that territory.

These episodes deal with Jordan's struggles with fame;

this NBC intro

for Game 4 of the 1991 Finals encapsulates this theme incredibly well. If you get nothing out of this article other than watching that video, I'm okay with that.

"The Last Dance" soundtrack continues to slap. Viewers were hit with "If I Ruled the World" and "Can I Kick It?" in the first 10 minutes of episode five.

Seinfeld: "I'm trying to make quitting the move of the '90s." 

Dennis Rodman, last week's center of attention, remains wild. When asked by coach Phil Jackson if he's going to the pool with Jordan and Pippen off to a 3:30 tee time, he says he isn't and proclaims that he's going to Hooters for exactly the reason you think he's going to Hooters.

It's evident in watching this documentary that Jordan was perfectly willing to make stuff up to reach new competitive heights. In the 1992 Finals, he used pundits mentioning Drexler in the same breath as himself as motivation to knock him down a peg. He did that.

Piggybacking off that point, I was genuinely thrilled to see Toni Kukoc appear in these episodes. Kukoc was drafted by the Bulls in 1990 and joined the team later in the decade. However, playing for war-torn Croatia in the 1992 Olympics, Jordan and Pippen, who starred for Team USA, used Bulls general manager Jerry Krause's fawning over Kukoc in their favor as the Americans cruised to two blowout victories over Croatia and won the gold medal.

Barack Obama makes the leap from "Chicago Resident" to "President" in this episode.
Come back next week for more on episodes seven and eight!