Former Men's Basketball Players Gazi, Hawkins Sign Overseas Deals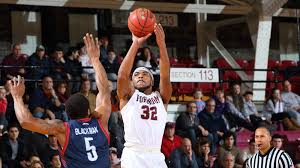 A pair of former Fordham Men's Basketball players have signed professional contracts in Europe.
Erten Gazi, who completed his senior season in March, has signed with Anadolu Efes Istanbul in Turkey. Gazi averaged nearly nine points and three rebounds per game last season as he worked around multiple injuries throughout the year. The season was a nice bounce back story for Gazi, who had played just five games the season before.
Javontae Hawkins, who played with the Rams as a graduate transfer from South Florida in the 2016-17 season, has signed with the German team MHP Riesen Ludwigsburg. He will commence his fourth season as a professional athlete. Hawkins led the 2016-17 Rams in scoring with 14 points per game and also grabbed nearly five rebounds per contest. He has also played professionally in Greece and Finland.