Rowing Takes Its Act to Land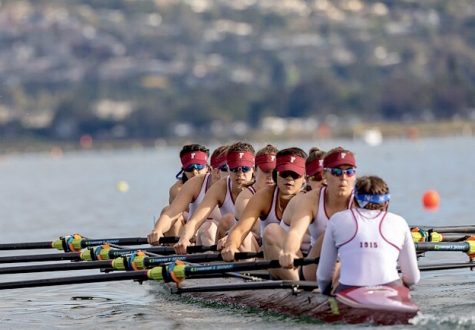 As fall sports teams return to action in a time unlike any other, there is one sport unlike any other as well. Fordham Rowing is, of course, dependent on the water. Their home is not in the Rose Hill Gym or Jack Coffey Field, but on faraway waters that require a Ram Van trip. With that, the start to the 2020 season has looked a bit different for the women.
Their usual warmup to the spring has been taken away. Instead, they are left reflecting on the positives from last season. Experienced leadership delivered some top-flight finishes, while a large freshman class showed improvement over just a few months. Despite losing out on a spring season, those factors still reign true. 
Eight freshmen join the team along with a number of sophomore transfers, and nearly all of the graduating seniors have come back as well. This fall marks the last for head coach of 31 years Ted Bonanno. Retiring alongside his wife, Bonanno has been taking charge in the fall while also preparing for a future without him.
Gearing up for the transition to assistant coach Jenn Thomas, Bonanno brought in multiple coaches for support, saying, "We actually have the largest coaching staff in the history of the program right now. We have six coaches right now, last year we only had three." It is a product of the tremendous support Bonanno has received since he came on over 30 years ago. 
The strong leadership has certainly helped the team navigate the pandemic's challenges. Fordham returns its key rowers in what Bonanno called "the largest … and the deepest squad we've ever had." And it puts Fordham in a unique position as well: "We were very fortunate that we could afford to do that … I don't think any other teams really had that luxury."
For some the plan was to return, but for others, it was more of a surprise. Erin Stepka was one of those surprises, saying, "I honestly wasn't expecting to get this opportunity of another year of eligibility and education … To continue learning and having the possibility of maybe getting to compete again with my team was something I couldn't pass up."
Erika Selakowski returns as captain for her fifth year and is joined by senior Sophia Singh. "I wouldn't be the athlete or person that I am today without the girls on this team, so being a captain feels like such a privilege everyday," Singh says. "It sounds cheesy, but I genuinely believe that if everyone on the team believes in themselves as much as I believe in them, we'll be able to crush every single race once we're back in action."
What is the job at present? Simple: Just get the team ready for the spring. "There's not really much I can do other than prepare the team to do well," Bonanno said, laughing.
"Oh, it's been terrible, not being able to coach the team on the water is really really terrible," Bonanno candidly told the Ram. "All the coaches at Fordham have been disappointed and frustrated by all the limitations caused by COVID … I think everyone's doing the best job they can to prepare their teams."
The difficulty for the coaches is shared by the rowers. "We work so hard year around to prepare for those races, and losing our favorite time of year was really upsetting," Singh said. 
Stepka had a similar perspective, missing competition but also reminiscing on a year ago. "My favorite race is the Head of the Charles … Not only is it a beautiful course, but I always have such a great experience rowing with my teammates."
Senior Aleksa Bjornson said, "Honestly, this fall season does not compare to any others I have had at Fordham … What has really helped me navigate this time is staying conscious of the fundamentals rowing has taught me."
Those fundamentals are especially important when practices are not on the water, but on land. "They're rowers, they want to row … They want to be on the water. That's really the fun part of being on crew," coach Bonanno said, laughing.
However, the commitment from the athletes has been remarkable. Rain or shine, the team has remained as dedicated as ever. "They've been doing just an absolutely excellent job of working through this completely changed training schedule, and I have nothing but praise for the whole team," said Bonanno.
As a reminder of that, Stepka is doing her part to remain on pace with the team from the other side of the country. "Since I am at home in Seattle, it has been an especially weird 2020 season, but I am still trying to keep up with my team's workouts from across the country!"
Practices consist of socially distanced laps or work on the rowing machines. On days when the weather doesn't cooperate, practice is canceled — or at least that's the intention. Speaking to us on Thursday, Bonanno said, "Today it was pouring, the entire team showed up … I appreciate everyone being here but I really don't want you all indoors exercising with masks on." He scheduled a voluntary practice instead, but "would be surprised if the majority of them don't do that."
Beyond just the work in practices, though, has come the added importance of keeping the team together. Singh was particularly proud of this, saying, "It's been a really important time for everyone in athletics; we've learned not to take a single aspect of our sports for granted … Some things are bigger than all of us, and this is certainly one of them." 
Bjornson said the same, saying that she strives "to remain focused and disciplined despite the overarching uncertainty and making sure my teammates feel supported during this tough time."
Without having the water beneath them, it has been a difficult time for Fordham Rowing. Coach Bonanno is proud of their perseverance through it: "The team is just doing a phenomenally good job. All the coaches are chipping in and getting the job done. I think the team is set to have a good spring."
What are the hopes for the spring? Bjornson summed it up well: "It would be great to win him one last medal." The dedication in the fall has put the team in a great position to do just that.