Megan Thee Stallion Sets the Record Straight in Debut Album "Good News"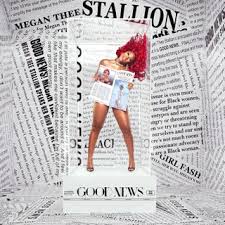 The world has had its eye on up-and-coming rap star Meghan Thee Stallion, as she has commanded the genre for the past two years with her mainstay hits and powerful personality. The Houston-based rapper's name was catapulted into the spotlight after a less-than-ideal incident earlier this year. Early in the morning on July 12, TMZ released a video of Stallion stumbling out of a vehicle towards police, leaving a trail of blood in her path. Just a few days later, Stallion revealed that fellow rapper Tory Lanez had shot her twice in the foot. The world responded in a dismissive, misogynistic manner, accusing her of instigating and lying about the incident.
Despite the crowds clamoring for her downfall, Meghan Thee Stallion used her trauma to broaden the social commentary regarding America's mistreatment and violence towards Black women. During her first SNL performance, she condemned the lack of legal action against the officers who murdered Breonna Taylor. She followed this up with a powerful op-ed for the New York Times that discussed America's normalization and subsequent ignorance of violence against women of color. Simultaneously, Stallion continued to dominate the music scene, securing two No. 1 hits on the Billboard Charts with the TikTok-famous "Savage Remix (feat. Beyoncé)" and the sexually-charged anthem "W.A.P." with Cardi B. 
"Good News," Stallion's debut full-length album, both continues this conversation about  violence while also leaving her haters in the past. The album is experimental as Stallion attempts a variety of styles over the course of the record to keep her audience engaged. Nevertheless, Stallion's sharp delivery and memorable hooks remain intact.
Stallion starts off the album with "Shots Fired," where she lambastes Lanez for his crime and subsequent lies about the ordeal. The number, which aptly samples the Notorious B.I.G.'s "Who Shot Ya?", retells Stallion's side of the story in an absolutely brutal fashion. She reduces his bullets to mere pellets, spitting lyrics such as "Okay, he in the backseat and he keep callin' me a b—- (He a b—-) / We all know the s— I could've came back with." After the number closes, it's clear who won this round of the feud. 
Stallion does not revisit the incident after "Shots Fired," having said what she needed to say. A collection of uplifting, groovy and sexually-charged anthems follow. The second song, "Circles," expands upon overcoming her vulnerabilities, but uses a hip, pumped-up rhythm to maintain her upbeat flow. It's an anthem for any woman dealing with personal difficulties such as inconsistent men and trust issues. 
After "Circles" concludes, Stallion fuels "Good News" with both pop-inspired experiments and traditional hip-hop roots. While Stallion's raps stay sharp as ever, her genre crossovers don't work as well. The '80s-evoking "Don't Rock Me To Sleep," in particular, feels as if it would fit a pop star's style rather than Stallion's. "Intercourse," which features Popcaan and DJ Mustard, runs into a similar problem, as it relies on Popcaan repeating "sexual intercourse" over and over again to maintain relevance on an album filled with bangers. 
However, Stallion's venture into mainstream pop-inspired styles does work in other cases. "Body," for one, gets a bit of a bad rep. Listeners initially clowned the number, cringing at the background's moaning sound effects and declaring it a department store's background track. Nevertheless, Stallion has the last laugh as the single has exploded in popularity on TikTok, inspiring new dance trends and promoting body positivity. The number, too, is both catchy and memorable — the chorus, which mainly consists of Stallion chanting "Body-ody-ody-ody-ody-ody-ody-ody," will stay in the listener's head for hours. 
"Outside" succeeds where "Don't Rock Me To Sleep" fails. Like "Circles," Stallion reveals her vulnerabilities on this track while maintaining her tough attitude. Stallion comes to a crossroads on this track, questioning whether she should please her fans or do what she loves. The track's euphoric, synthesized melodies sharply contrast with fiery lyrics, such as "I ain't for the streets, 'cause b—-, I am the street," and Stallion's talents truly shine here.
That being said, Stallion's biggest strengths lie within her traditional roots. The intense, rap-focused numbers exemplify Stallion's simple yet effective hooks the best. "What's New" demonstrates the sharpness Stallion has to offer as she pairs a sing-songy chorus with quick verses to give a lyrical middle finger to her haters. The whistling sound effects echoing in the background make the track especially memorable. "Sugar Baby" glorifies relationships defined by a dollar sign, and Stallion uses synthesizers that provide an arcade-inspired sound. The quick delivery of lyrics showcases Stallion's talent spitting bars. Stallion also makes sure to inject some of her signature humor near the end, saying "Yeah, I'm already rich, but I'm still tryna get rich … ER" with a cackle.
Stallion's collaborations boast some big names, too, spanning from DaBaby on "Cry Baby," City Girls on "Do It On The Tip," SZA on "Freaky Girls" and Young Thug on "Don't Stop." She blends seamlessly with the City Girls and SZA, and the ladies better complement Stallion's flow. However, "Cry Baby" does stand out — DaBaby and Stallion previously collaborated with "Cash S—," and their performances still mesh together well.
Over the course of the album Stallion never forgets her mission. She slips in advocating lyrics here and there, from asking "Now here we are, 2020, eight months later / And we still ain't got no f—— justice for Breonna Taylor" in "Shots Fired," to promoting Black businesses in "Sugar Baby." 
"Good News" does many things, from celebrating Stallion's success in life, unleashing her sexual desires and setting the record straight. "Good News" cements Megan Thee Stallion as a prominent figure in the rap industry, deservedly so.