Pain, Promise, Pasta: Arthur Avenue Greets Indoor Dining Clearance
The tension between free press and comfort hung hot in the garlicky air. Both Regina Migliucci-Delfino and Maria Di Rende had approved my visit, but neither restaurant owner expected to see me at the peak hours of Saturday night. I wanted to shoot their weekly prime, I explained, the first with indoor dining since March. Two days into the return, barely legal at quarter-capacity, each woman's restaurant was full but far from filled. Each one had lost an owner after all, as well as hundreds of thousands of dollars in sales.
On Sept. 3, the New York State Restaurant Association followed up on a survey of over 1,000 local restaurateurs. "Without a comprehensive relief package specifically for restaurants, 63.6% of New York restaurants said they are likely to close by the end of the year," the follow-up reads. Six days later, Governor Andrew Cuomo "announced indoor dining in New York City will be allowed to resume beginning September 30th with a 25 percent occupancy limit." The reality between these developments is that restaurants are still in financial decline, at immunological risk or worse — in mourning.
Mario's owner Regina Migliucci-Delfino's father, Joseph Migliucci, was killed by COVID-19 in April. That 101-year-old jewel of Arthur Avenue and its host of other COVID-19 woes became hers to handle. "Well, I mean, thank God we've got the PPP money, but, you know, it's okay," she said by phone. As late as mid-July, The New York Post reports, the federal Paycheck Protection Program owed Regina over $150,000. "I'm almost done with that now. It's almost all gone," she said.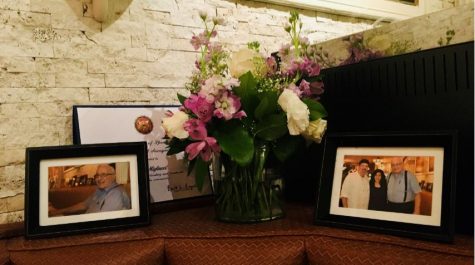 Asked whether her father's memory or the government's aid keeps the restaurant afloat, Migliucci-Delfino laughed. "I believe I need both," she said. "I mean, we're surviving. Is it like before? No. It's not anything like before. And, sad thing is, every time you turn around, somebody else wants to come in and do an inspection to give you a fine for something that you couldn't have done due to COVID, and they're still giving out fines. It's unbelievable."
Migliucci-Delfino paused. "Um, can I put you on a brief hold? I have a fire department inspector here."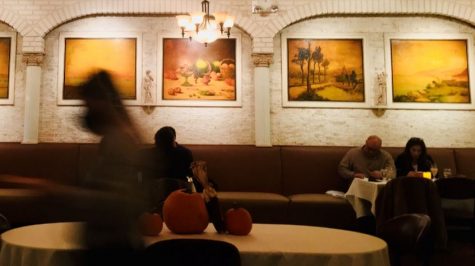 Maria Di Rende lost her husband, Enzo Di Rende, father of her children, to cancer in 2017. His portrait hangs in Enzo's, over the bar and facing Arthur Avenue. It watched over Maria and her maître d's Saturday as they kept abreast the line of indoor diners to be. "I think the majority of people are excited; they want to come in," she said by phone. "To be honest with you, what's needed is the government to allow us to fully operate."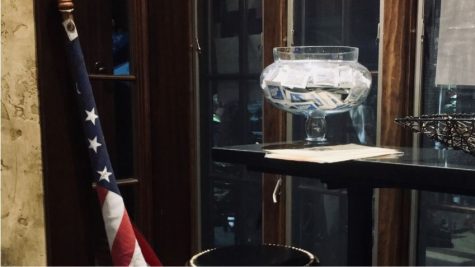 In rural Albany, a redbrick building squats by a sign that reads, "New York State Restaurant Association." Kathleen Reilly, government affairs coordinator for New York City, works there. She wears her expertise on LinkedIn, not in her tone; sans a Bronx accent, the Georgetown grad says indoor dining should return without a hitch. "In terms of the safeness and the medical viability of it, we've had indoor dining in the entire rest of the state for months and have not seen any issues there. We've seen a lot of really inventive and really careful restaurateurs who have come up with ways to design the flow of their indoor spaces," she said.
What about those restaurants with tight indoor spaces or poor ventilation systems? "I think the state has been trying to be understanding of the various limitations that certain restaurant spaces will have, whether it's their HVAC system, their layouts, or whatever else," Reilly said. "And I think that they have been trying to put in place regulations that will help keep our staff and our customers safe when they're coming into a restaurant."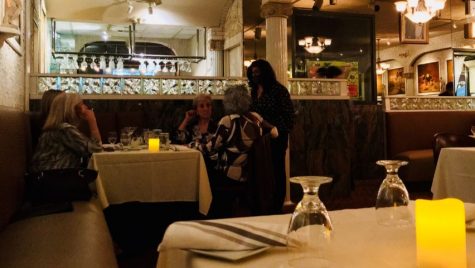 Over the phone, Migliucci-Delfino did agree with Di Rende. "If business doesn't go back to more normal, then we're just all gonna be in trouble again," the Mario's owner said. However, two days into the step toward normalcy, her business wasn't improving. "Not a lot of people want to come inside yet," she said. "People are still afraid." Just across the avenue, Enzo's told a different story. "We don't have that many people that are saying no, they don't want to come inside to eat," Di Rende said. "They're pretty much whatever works, in or out, wherever they can sit down quickest."
Enzo's is larger than Mario's, so there could be a positive correlation in size between layout and turnout. What's certain is that each restaurant seats differently within. While Mario's has one dining area, Enzo's has four: a bar-side space up front, a banquet room in back, a room off the hallway between and a rear patio. The night of my visit, Enzo's was so lively that it didn't seem to be at quarter-capacity.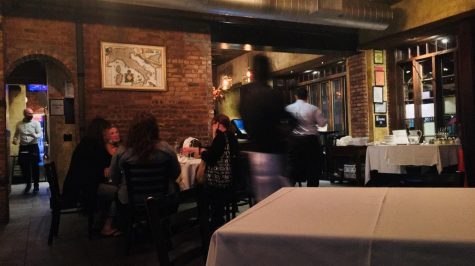 Both ladies worried my photography would bug diners. Whether they worried it would also capture wrongful spacing is unknown. "It still is a struggle." That's Di Rende's truth. "Restaurants can't really operate and make a living if it's not 100%, so it's definitely a struggle," she said. "I can't even imagine what small restaurants have to go through."
Migliucci-Delfino's restaurant isn't small, but it carries itself as though it were. As she introduced me to every table, ensuring each diner gave consent for my shooting, bright smiles met my suppliant eyes. One diner joked he charged a premium per picture. Another man sat me down and told the history of the neighborhood. Treated like family, I reciprocated, listening to his eyes instead of taking notes.
Within, I heard and saw a pain: the pain I still heard in Migliucci-Delfino, the pain I saw Di Rende scan me with in the banquet room. It was the pain of memories as everything but concrete, everywhere but here, and every time but now. Memories as the mold of tomorrow, as the motive who haunts and as the working class's irrevocable spring of hope.