Eminem Sheds More Blood With Sharper "Music to Be Murdered By Side-B"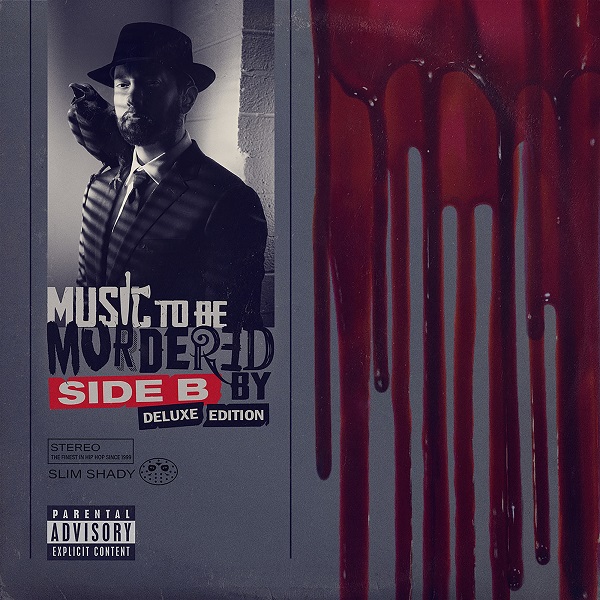 The winter of 2020 was unlike any other in American history, as the nation grappled with the paralyzing pandemic, political discourse as a result of the tumultuous presidential election on Nov. 3 and the speculation ran rampant that Eminem would return with his second album in a span of just 11 months. After the release of "Music to Be Murdered By" in Jan. 2020, Eminem  has turned speculation into a second murder and this time it's a cleaner cut.
However, it is not clean in the manner that listeners typically believe to be clean. The new 16-track, album which deceptively goes by "Side-B," offers no shortage of controversy, Easter-egg-like lyricism, stronger beats and the classic juvenile humor for which America continues to vocally criticize the now 48-year old rapper. Much like "Side-A," "Side-B" continues its homage to Alfred Hitchcock, with the household name opening the album announcing that it serves as "Music to be buried by." Hearing the horror legend announce this may cause listeners to wonder why this wasn't the title but it becomes perfectly clear that Eminem did not return to bury the corpses of critics of the first album; he returned to tie up loose ends and commit a double-homicide while doing so.
"Black Magic" is an example of Eminem tying up loose ends as his longtime collaborator Skylar Grey returns with a hauntingly enchanting hook which lures listeners into the new crime scene Eminem works to create. Singing "Black magic/Dark water/She haunts me like no other/She's got my heart in chains," Grey ices the unnecessarily dramatic threatricism from her last performance ("Leaving Heaven") in favor of a simple, yet catchy hook. That is, a hook that fits Eminem like the leather glove he's going to need to commence his lyrical murder spree. He uses lines like: "As I say farewell to the love of my life/I cut and I slice/I give her one last hug goodbye/Wipe the blood off my butterfly knife/And watch her f*****' die right in front of my eyes."
After this bloody kill, Eminem's kills get cleaner with tracks like "Favorite B****," featuring Ty Dolla $ign, which bears a noticeable improvement in sound production from the last album. The song depicts a frustrated Eminem speaking on his love-hate relationship with the hip-hop industry, personified as his lover. He feels the industry has cheated on him for mumble rap, at one point he vows to kill her if she doesn't agree to "marry him again." The track sonically excels. The beat carries bass more effectively than most of the tracks on the album's predecessor did. Listeners are bound to feel that this track is a sequel to "25 to life," from Eminem's 2010 album "Recovery." It also rehashes the controversy from "Side-A."
Tracks like "Alfred's Theme," "She Loves Me" and most notably, "Discombobulated," are where Eminem cuts deepest, as he does what his critics doubt he can still do- summon the old Slim Shady. Eminem does all of this and more as he returns to his "Relapse"-era accents on "Discombobulated," "The Slim Shady LP's" snares, juvenile lyrics on "Alfred's Theme" and humorous passages about his romantic escapades on "She Loves Me." The tracks not only show Eminem is still as fun to listen to now, but he still knows where and how to stab right in listeners' nostalgia-bone. Executed with such sharp surgical precision, these songs were made to be replayed.
Eminem's murder spree reaches its deadliest high with "Gnat," which has a zany approach to COVID-19, as Eminem raps: "They say these bars are like COVID/You get em' right off the bat." This clever turn of phrase is nothing new to fans and casual listeners of Eminem. However, where the song really sees Eminem go for the jugular is when its beat undergoes two switch-ups in the matter of seconds and Eminem, a lyrical chameleon, not only adapts but masters the domain. The turntables flip to booming bass backed up with a jazzily rambunctious cornett married to delicate yet punchy piano keys. This is the moment where Eminem fires on all cylinders, ensuring that no syllable survives while nearly breaking the speed barrier. 
Eminem has again proven his aptitude to slaughter any track he performs on. With such a solid release, however, it beckons the question: why release an album in Jan., when he could have just offered this masterpiece with the first album's songs? However, the only question Eminem should answer for his next venture, is the question he poses in his UFC anthem, "Higher:" "Where am I supposed to go from here?"