"I Will Fight Until I Drop" Cicely Tyson's Legacy of Grace and Tenacity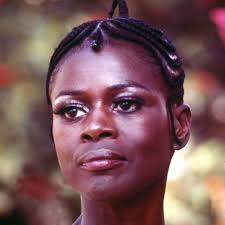 Cicely Tyson, a legend on screen and off, passed away last week on Jan. 28, 2021. The iconic actress, model and activist was 96. 
Ms. Tyson set a groundbreaking precedent for Black actors with the philosophy that she would only sign onto projects where she would portray multi-dimensional Black women who didn't fall victim to degrading, racist stereotypes. Even though this meant she lost out on work, Tyson held firm to her beliefs, holding out for roles that uplifted Black women and criticizing the ever-present demeaning media portrayals of African-Americans.
In a 1972 interview with the New York Times, Tyson explained her reasoning for giving up personal financial gain in favor of ensuring she only play complex characters with unique stories. Tyson said that African-Americans "have contributed a great deal to this country, but what's being projected is a very negative image, and not necessarily a projection of the truth."
In a virtual interview on "Live with Kelly and Ryan!" filmed just days before her death, Tyson told hosts Kelly Ripa and Ryan Seacrest, "I never really worked for the money. I've worked because there were certain issues that I wish were addressed about myself and my race as a Black woman." 
Tyson had her first on-screen acting credit in 1951 in an episode of "Frontiers of Faith," a long-running NBC television series. Some of her early film credits included "The Comedians," "The Heart Is a Lonely Hunter," and "A Man Called Adam," the latter of which she appeared alongside Louis Armstrong and Sammy Davis Jr.
In 1963, Tyson made history as the first African-American to star in a television drama in the CBS program "Eastside/Westside," playing Jane Foster, the fictional secretary to a New York City social worker. 
Though her television work was groundbreaking, she found true stardom following her role in the 1972 film "Sounder," based on a William H. Armstrong novel.  Tyson played Rebecca Morgan, the wife of an imprisoned sharecropper, for which she received massive critical praise. In his 1972 review of the film, Roger Ebert wrote that it was "a wonder to see the subtleties in her performance." She received an Academy Award nomination for Best Actress in a Leading Role for the part, becoming only the third Black woman to be nominated for the award.
In addition to her Oscar nomination, Tyson won three Emmy awards, two for her portrayal of Jane Pittman in "The Autobiography of Miss Jane Pittman." Tyson also had a supporting role on the historical television series "Roots," as well as in the film "Fried Green Tomatoes."  In 2018, she received an Honorary Oscar, a distinction she proclaimed to be a "culmination of all those years of have and have-not."
Tyson also had an esteemed stage career, appearing in the original cast of "The Blacks," the longest-running off-Broadway non-musical of the 1960s, performing next to James Earl Jones, Billy Dee Williams and Maya Angelou. In 2013, she won her first Tony Award at age 88 for her role in "The Trip to Bountiful." When the orchestra began to play her off during her acceptance speech, she took it in stride. "Please wrap it up," she read from the prompter. "Well, that's exactly what you did with me. You wrapped me up in your arms after 30 years, and now I can go home with a Tony."
Along with a lasting legacy as an activist and actress, Tyson was known for her dazzling style. Her career began in the fashion world, modeling for magazines such as Ebony and Jet and eventually becoming synonymous with her iconic elegance on and off the red carpet. She was known for committing to her personal style, specifically an early decision to wear her hair naturally on screen, despite the backlash. Tyson explained that she had received widespread disapproval for wearing her hair cut short on television, but she did not let the harsh messages change her mind. 
"They'd been brainwashed into believing that all things relating to physical blackness were bad, negative, less than good and less than white," she told The Boston Globe in 1972. "But I knew it was just a question of time before the whole picture took on its true colors."
Tyson continued to work during the twenty-first century, appearing as a recurring character in "How to Get Away with Murder," "Cherish the Day," and starring as a supporting character in "The Help."
Following the announcement of her death, notable friends and colleagues commemorated her legacy across social media.
Viola Davis, who played Tyson's daughter on "How to Get Away with Murder", shared a powerful tribute on Instagram.  "You made me feel loved and seen and valued in a world where there is still a cloak of invisibility for us dark chocolate girls," Davis wrote. "You gave me permission to dream."
Former President Barack Obama, who awarded her the Medal of Freedom in 2016, memorialized her through Twitter, writing that "Cicely Tyson was one of the rare award-winning actors whose work on the screen was surpassed only by what she was able to accomplish off of it."
Musician Lenny Kravitz shared his memories of Tyson, his Godmother, describing her as "a Black queen who showed us how beautiful Black is."
Two days before her death, Tyson released a memoir she wrote in collaboration with the former editor of O, The Oprah Magazine, Michele Burford, titled "Just As I Am: A Memoir." In her book, Tyson documents her life and long career, detailing romantic relationships, family strife, long-lasting friendships and even her exercise routine. 
During an interview with Gayle King less than a week before her passing, Tyson discussed her memoir, career and legacy. King asked, "When the time comes, what do you want us to remember you by?"
"I done my best," Tyson answered. "That's all."