The Ball is Rolling: A Conversation with DAISY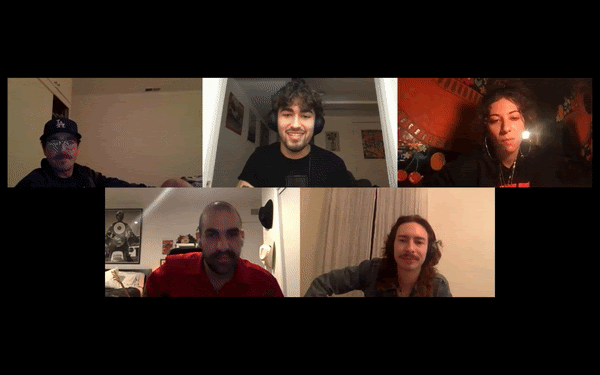 Are Pop-Tarts dumplings?
It's something that seems to have plagued DAISY since their 2018 EP, "HAVE A SNACK," whose track "BLANK STARES" begins with a heated argument over the question. But, when I ask them about it in an interview over Zoom, they tell me they've come to a consensus.
"Yes, they're dumplings," says bassist Alex "Alan" Kosvikis. Even if they agree on this matter, the conversation quickly evolves into a questioning of all things food; we try, unsuccessfully, to define everything from dumplings to burritos and sandwiches. It's clear there's more research to be done in the field. Thankfully, Alan reassures me that we can expect more food debates from DAISY in the future. "We'll be exploring themes like that for sure," agrees Ben Roswell Salk, the group's keyboardist.
Alan and Ben, along with band members Daisy Hamel-Buffa, vocals, and Matthew "Rat" Fildey, guitar, have been working hard on things not food-related, too. Almost three years since "HAVE A SNACK," DAISY has released a Matt Martians-produced single, performed at Tyler, the Creator's Camp Flog Gnaw, and geared up for the release of a new project that was initially due in 2020.
You were planning on releasing music last year. Is that what's coming out this year, or is it something new entirely?
Alan: Oh, yeah, yes and yes. I think we would have done it last year, or we would have gotten that ball rolling and then finished rolling that ball last year. But because we didn't get the ball rolling — or rather, we just got the ball rolling later in the year than we would have, so the ball's finishing rolling this year. But we've been sitting on it.
Daisy: But it's rolling! Most importantly, the ball is rolling.
Ben: The ball is hot!
Rat: Like, we're sore from sitting on this ball for over a year.
Still, the ongoing pandemic forced the band to adapt their music making process. Because of COVID-19 restrictions, many of the songs were panned out by sitting in a circle in a backyard with nothing but some practice amps, a keyboard and Daisy's voice. Once the songs were fleshed out, Ben tells me the band traveled to Seattle and stayed "in the cute little basement of someone's house" around the corner from Hall of Justice, the studio where the band spent 12 hours a day for two weeks recording the project. 
On top of COVID-related issues, the Seattle trip came with obstacles of its own. When it came time to record vocals, Daisy completely lost her voice — "we had her writing on a whiteboard at one point to communicate, which was awesome," said Alan. 
Most of Daisy's vocals had to be re-recorded later in Los Angeles, but one of the scratch takes will appear on the project. "And it's this song that's super meaningful to me, so that's one of my favorite parts of the whole project is that specific moment," Daisy said. 
Despite the challenges, the band is in full agreement that the new project is their best yet. 
Daisy: I'm overloading my brain on it because I am obsessed with it. I can't stop listening to it.
Alan: I think it's just us. It's the distillation of the best parts of everything that people celebrate about DAISY the Band. The songs are f—— sick and the s— goes dummy hard.
Rat: I listen and sometimes my heart's hurting, but my head's nodding, and sometimes my heart is glowing and my ass is moving, but the entire time I'm feeling love.
With new music on the way, it's no surprise that the band is eager to get back on stage. "It'd be so awesome, and it's very well possible, that we drop it and are able to play a show right then when it comes out, and oh my god, that's all we want to do," said Alan. They're excited for live music to return as fans, too.
Who are you guys most looking forward to seeing when live music comes back?
Daisy: Anderson .Paak.
Alan: Here's the thing. I love Big Thief. But I don't want to see Big Thief when all this is over. I want to go see like, f—— Jamie xx. I want to go shake my ass. When this is over, I don't want to go cross my arms and listen to advanced harmony. I want four on the floor, and I want a subwoofer that's too loud and I want to lose all my friends and one shoe.
Rat: I'm still movin', shakin', learning, loving. But I'm ready to do it to a live kick drum. I'm ready to hear some harmonies and make some screams and like, hold my drink up in the air, you know? That kind of vibe.
Well, I hope you guys make it to New York soon, because I'd love to do that at a DAISY show!
Daisy: We will!
Ben: Hell yeah!
Rat: This year.
Alan: In 2020, we were going to come play Mercury Lounge in June or May.
Rat: Let's just say that I went on Grailed for the first and only time of my life and bought a Sesame Street t-shirt that said "Working in New York." And I was like, "I'm gonna buy this, and then I'm gonna wear this for the show in June," and then the world got shut down. And it's been hanging on my wall and every day I look at it and I'm like, "This year." So I will wear that shirt on stage in New York the night that we play our headlining show in New York. I'm not wasting that money.
At least you still have the shirt.
Rat: I will burn it if we don't play in New York.
Until they make it to the East Coast, you can check out DAISY's discography here, or on every major streaming platform. Their new project is due out this year.