Fiona Murtagh: From Ireland to the Bronx and Beyond
It is 2009. Alan Murtagh ran out of the house at seven in the morning, on his way to the water for early rowing practice. Part of a rugby family, Alan did not want to follow those footsteps and found his own footing in rowing instead. 
Three hours later, he came home at 10 A.M., Fiona still in bed. He returned with excitement; Fiona did not really understand. "He's running to me being like, 'I was on the river today,' and I was like, 'I don't care."
After some time, that influence began to pay off, and Fiona took to rowing herself. She had always been active growing up, but never really much for competition. However, in secondary school, her group of friends coincidentally were rowers, and the rest is history.
Twelve years later, Fiona raced her college years at Fordham University, medaled at the junior and now senior level with the Irish national team and is making a push to the 2021 Tokyo Olympics. But how did a girl from Galway come to New York? All it took was an e-mail.
Living in Ireland, Fiona had never really left home, only doing so for the odd holiday here and there. The nearest city to her home was the capital, Dublin. "I didn't like Dublin because of how big it was," Fiona said, "how am I gonna like New York?"
Her rowing success on the international level was well-charted. To that point, she had earned a gold medal with the novice eight at the 2011 Irish National Championships. Then again in 2012, ultimately competing at the Junior World Championships in 2013. With that track record behind her, it was no surprise that some universities would take an interest. She just had to make the effort.
Fiona had completed a year of college and an SAT exam, sending out the results to American universities on a whim. "I'll just email some people and see out of curiosity, would anyone ever reply?"  In 2013, that reply came, and it was from Fordham rowing coach Ted Bonanno.
Bonanno, now retired after 30 years at Fordham, had countless successes on the international stage, possibly taking a liking to Fiona as a result. And Fiona knew it, saying, "Ted was very adamant about bringing me to Fordham."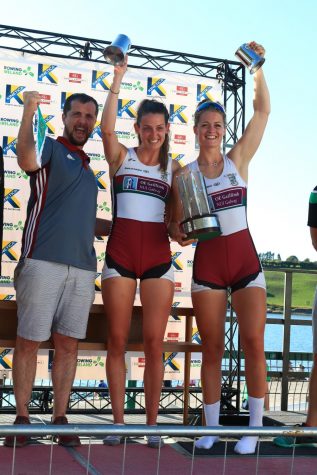 But the decision to leave home for one of the biggest cities in the world was not an easy one. "I'd wake up one morning and be like there's no way I'm going to New York; that's the most ridiculous thing I've ever heard. Next morning, I'd be like, 'I'm coming to America!"
What ultimately did the trick? A phone call from someone who loves to talk more than most. It was an ordinary evening film with Fiona and her friends, but Ted had other plans. On that call, Ted "laid it all down" for Fiona, from what was being offered to academic credits and everything in-between. He made one simple request: "Try it for six weeks, and if you don't like it, you can always go home."
 Two hours had gone by, Fiona missed the entire film, but it was there that "it just all clicked in my head and I never looked back." Fiona, who was yet to even mention her situation, suddenly told everyone she was heading to New York. Luckily, she had great support from those around here too, with her mother candidly saying, "Fiona, you'll regret it for the rest of your life if you don't go." So she did.
In a fish-out-of-water scenario, Fiona stepped off the airplane at John F. Kennedy airport to an entirely new world. The first example of that being the yellow school buses gracing the city street as Assistant Coach Nick Dawe met her at the airport. "I used to think the yellow American school buses were just in the films, so it was the first thing I saw when I got out of JFK, and I was like, 'They're real!"
That was just one of the many experiences characterizing her life in New York, with a twenty-story apartment block across from the old rowing club in Harlem being perhaps the best.
"Galway has maybe six stories; Dublin has maybe something like nine. I want to say for the first year.  I used to row really hard going past that building because I was afraid it was going to fall on top of me."
But after a while, Fiona fit right into the city, making the familiar mistake of traveling the wrong way on the Metro-North. And it was these experiences that ultimately made her journey worth it. "I am the person I am today because of that, much more relaxed."
And when it came to rowing? She holds a similar amount of gratitude for the friends for life that she still keeps in touch with through WhatsApp groups and the like. On the water, her career is largely remembered for crowning the Head of the Charles not once but twice, the only two times in school history.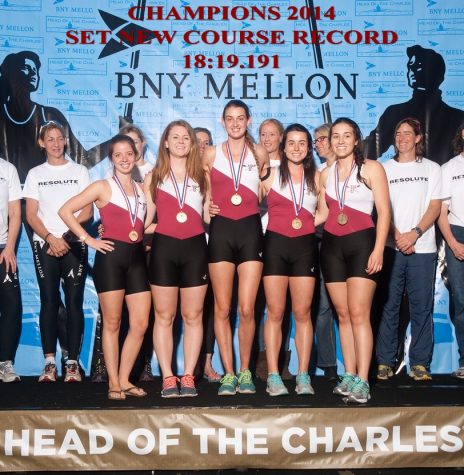 "Even not to race it, to view it, is incredible." Fiona was lucky enough to do both. As one of the largest events in the country, now attracting thousands of boats and athletes, the first-year goal was not to win, but to merely race.
"Even if we didn't win, that was a great row. We should be so proud of ourselves, like everything that went right did go right." However, that row was good enough to win and now there was "even more of a want to do it again."
It was a mere coincidence that gave Fiona the confidence they could do it. 
"They always do every year, like a slogan or something. The first year that we won it, the slogan was make history. Then the second year, the slogan was: defy the odds, so we were all like guys, we have to do it again." And they did it again, with one of the fastest times in course history at the club fours level in 2014. 
That was ultimately what those years at Fordham will be remembered for, two of the greatest wins ever for the program. But for Fiona, "It wouldn't be one specific moment or something, but everything."
The friends, the training, the competition, and the experiences, many of which continue to shape Fiona. Bonanno was known to have a rigorous training protocol, but those who did it would have success, and that was exactly the case for Fiona. "I've never trained as much in my life up until that point until I moved to college, so I definitely created my work ethic that I still have today."
College originally looked to be all the competitive rowing for Fiona, as she took a break after graduation for around eight months, thinking it was the last time. But with a one year working Visa in Boston, she "still ended up on the rowing machine," where she just happens to hold the school record for the 2000m.
Instead, that break was the start of her biggest love for rowing yet. Now culminating in a bronze medal at the European Championships, as she and Ireland strive to take part in the upcoming Olympic games.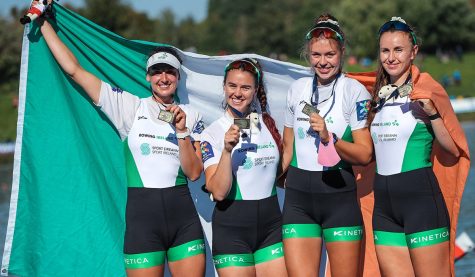 That journey dates back to 2020, where she said, "We're gonna make this happen, Fiona. This is gonna be our year." And for some time, it was looking the way. She had spent a year of full-time training at the NUI Galway Rowing Club, was invited to a camp in Italy with a shot at joining the team and looking to qualify for the Olympics in March. On top of that, she had a "little cheerleading team" at home helping her work toward it.
Like most things, the coronavirus pandemic put those goals on hold. Instead of training on the water, she spent twelve weeks in her kitchen, what she optimistically described as "character building." It was in May that Fiona hit the water again, this time with seven weeks to prepare for July qualification. "I knew we were doing well but I had never raced at a senior international level before," so there were "a lot of unknowns" coming into the European Championships.
And just as Fiona and Fordham had been doubted, the same could be said for her Ireland team. 
"We were at the line and they were calling out the role calls and they'll be like: The Netherlands — World Silver Medalists, Denmark — World Bronze Medalists … Ireland, and it was nothing."
But once the races began, none of that mattered. In the first, Ireland finished second to the Dutch, with Fiona calling it "the most exciting thing I've ever done." Knowing they were in a podium spot, the final race saw an even tighter finish, with the Irish in third behind Italy.
However, that is something Fiona now keeps as a target, as Italy is yet to qualify for the Olympics themselves, "fuel to the fire as they say."
Speaking of the Olympics, Ireland has one boat on its way to Tokyo, a pair that qualified in 2019, but the rest is up in the air. The last chance comes the weekend of May 21st in Lucerne, Switzerland, where seven or eight countries will be competing for the final two spots. Fiona said, "High pressure, but we're looking forward to it."
Despite that pressure, the race will ultimately look like everything Fiona has experienced before. From the junior level at Ireland to the moments on and away from the water at Fordham. Regardless of the outcome, those days as a Ram will remain with her forever.