Foo Fighters' "Medicine at Midnight" is a Psychedelic Surprise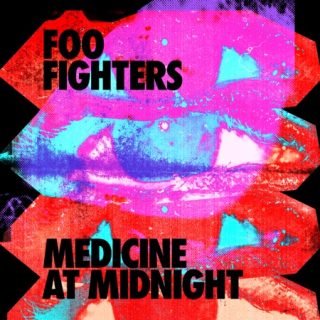 It may be easy to forget about the post-Nirvana pioneers of grunge. These artists, like Dave Grohl, dominated the '90s and gained a cult-like following after original frontman and grunge-god Kurt Cobain victoriously led them into a war of airwave supremacy. Following Cobain's tragic death, Dave Grohl did the impossible; he shouldered the responsibility of a band who had all the teary teenage eyes on them to continue the work Kurt started, and through the years, Grohl did just that with the Foo Fighters. Their latest release, "Medicine at Midnight," poises the band for a Rock revival.
However, a revival should not indicate the band's attempt to return to their roots — the Foo Fighters have nothing to prove on this front. Dave Grohl has taken the band to their original form almost seamlessly with solid releases like "Sonic Highways" in 2014 and "Concrete and Gold" in 2017. "Medicine at Midnight" is special in that it gives hard-rock and metal enthusiasts raw riff-ripping, while simultaneously catering to an Alternative-rock audience with funky percussion-work reminiscent of the Red Hot Chili Peppers. With such a dynamic mix, the record feels less like medicine and more like experimental psychedelics that get listeners high on a sound that feels both new and old.
The opening track, "Making a Fire," is an infectious jam session straight from the '90s, yet it feels refreshingly new. The vocals are delivered with surprising energy, and daringly enough, happiness. Hearing Grohl smoothly sing, "Are you afraid of the dark?/I know a place we could start," followed by smashing drums and upbeat vocal-work, makes the title "Making a Fire" seem false because in this track it is clear the fire has always been burning.
"Cloudspotter" marks another surprise, as a light but sharp guitar riff gives way to bombastic, bubbly pop percussions followed by the daring duet delivery of, "Big baby, run and hide/Hope it don't sting when the feeling dies/I got sweet dreams tucked in tight/Silver screen sister in a suit and tie." As if this weren't bizarre enough, Grohl can be heard delivering seductive backup vocals later in the song. What assuredly stands out to listeners is hearing how Grohl, at 52 years old, still knows the rock industry like the backside of his guitar pick. Instead of attempting to sound fresh with a song that sounds less like an experiment underway and more like a cumbersomely constructed hypothesis, Grohl already has his lab coat on and is ready to make magic happen.
Grohl does not just pull a rabbit out of his hat, though. It is clear he has better tricks up his sleeves as he shreds through tracks like "No Son of Mine," "Holding Poison" and "Love Dies Young," with a particular guitar sound that is sorely missed by the '80s babies who remember the intense riffs of James Hetfield from Metallica's 1983 debut "Kill Em' All." With tracks like these, it's as if Grohl audibly administered a pill to get listeners headbanging like it was 1983 again.
The title track, "Medicine at Midnight," is an addictive listen because of its infectious injection of grooves sharply similar to a Red Hot Chilli Peppers song. Listeners would be forgiven if they thought Anthony Kiedis would make a cameo on the track to proclaim his undying love of California. Listeners may even hear shades of Living Colour with how potently punchy the guitar sounds. In sum, the title track "Medicine at Midnight" is a cauldron of catchiness.
"Chasing Birds" is as mellow as the album gets, with Grohl calmly singing, "Chasing birds to get high/My head is in the clouds." The track provides a soothing change of pace that made listeners want to stop what they're doing and look out their window to watch birds and ponder life.
The trippy album hits its climax with "Waiting on a War," an emotional and powerful ballad where Grohl's emotionally-charged vocals shine through with sobering brilliance. The acoustic brings back pleasant memories of the band's hit single, "Best of You."
Now, the band's tenth studio album, "Medicine at Midnight" is a musical prescription audiences need refilled.