Prince Coffee House Offers a Glimpse of Italian Culture Right in Our Own Backyard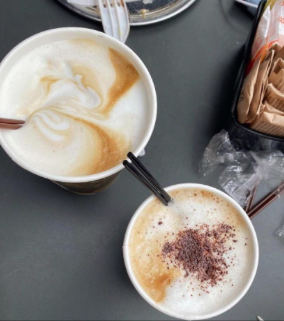 Next time you find yourself strolling along Arthur Avenue, keep an eye out for Prince Coffee House's unmistakable sign. At the end of Arthur Avenue, this gem is only about a fifteen minute walk from Fordham's campus. Prince's inviting outdoor seating and fresh coffee aroma embody Little Italy and are sure to lure you in. From gourmet coffee to delicious pastries, Prince offers a true glimpse into Italian culture and invites you to relax, focus or just hang out with friends.
Prince Coffee's friendly employees are eager to serve and recommend their favorite items. With the weather warming up, look no further than Prince for an outdoor table and free, reliable Wi-Fi. Prince is open from 7 a.m. to 11 p.m., so whether you need a quick cup before class or a late night study spot, Prince has you covered. Keep it on your radar in the future as well once indoor dining becomes safer. Prince is equipped with little tables, great windows for people watching and a cozy basement area. You can decide to be waited on or order directly from the counter while you drool over the amazing pastry selections. Drinks average around five dollars. Yes, it's more expensive than Dunkin' or Starbucks, but Prince is certainly worth every penny. They even offer non-dairy milk options such as soy, almond and oat milk. A few menu highlights include their caramel latte, banana espresso, classic cappuccino, Turkish coffee and hot chocolate that beats Swiss Miss. I also must say that the tiramisu does not disappoint.
Due to the pandemic, Bronx businesses have been struggling to stay afloat. According to the New York State Department of Labor, unemployment rates in New York City reached 11% this December, with the Bronx's individual unemployment rate even higher at 15.1%. For reference, that means about one in seven people are jobless. As students in the Bronx, it is essential that we show businesses our support to keep our fellow community members employed and keep gems like Prince afloat. 
Prince is only one of many small businesses in the Bronx that rely on the support of the community to thrive. So, next time you are debating whether to visit a restaurant, cafe or shop in the area, do not hesitate any more, as local businesses need our support now more than ever. Allow Arthur Avenue to maintain its iconic Little Italy title by investing in the businesses that make Little Italy.